Facts and myths about nutrition for diabetes
November is Diabetes Month

Listen here:
Chances are you know someone with diabetes. The Canadian Diabetes Association estimates there are currently 11 million Canadians living with diabetes or prediabetes.  This number is also expected to rise over the next decade.  
Diabetes is a disease in which the body either can't make the hormone insulin or alternatively can't properly use insulin. Since insulin is a hormone that controls the amount of sugar (glucose) in the blood, diabetes leads to high blood sugars which can cause serious damage to organs, blood vessels and nerves in your body.  
It is no surprise that nutrition is one of the most important factors in helping to manage healthy blood sugar levels.  Preventing high blood sugars can help prevent diabetes-related complications such as kidney disease, foot problems, eye disease, heart attack, stroke, nerve damage and erectile dysfunction in men.

Here are some of the most common myths and nutrition facts about diabetes to help boost your understanding of how food influences blood sugar management:  
#1.
Myth: Diabetes is caused by eating too much sugar and is preventable
Fact: There are several types of diabetes and it isn't always preventable  
Type 1 diabetes is not caused by eating too much sugar or any other nutrition factor.  Type 1 diabetes is not preventable. The cause of Type 1 diabetes is unknown but scientists think it happens when the body's immune system destroys the cells in the pancreas that make insulin. If you have type 1 diabetes you must take insulin by a pen, syringe or pump since your body cannot make insulin.  Understanding healthy meal planning is also important to help manage blood sugars.  
About 90% of people with diabetes have type 2 diabetes.   This occurs when your body can't properly use insulin (known as insulin sensitivity) or doesn't make enough insulin, which results in sugar building up in your blood.  Type 2 diabetes is managed through healthy eating, exercise and sometimes medications and/or insulin to help control blood sugars. Eating too much sugar does not cause type 2 diabetes (just like no one single food or nutrient can be blamed for obesity).  Some of the risk factors for type 2 diabetes are things we can't change such as being over the age of 40, certain ethnic backgrounds, personal genetics and family history.  The risk of type 2 diabetes does however increase strongly if you are overweight, especially around the mid-section.  
#2
Myth: A special diet must be followed
Fact: You can eat regular foods like everyone else
You don't have to eat a separate meal from other members of the family just because you have diabetes. You can buy regular food at the grocery store and cook regular recipes.  While you can certainly lower the sugar levels of recipes, cook from diabetes cookbooks or buy sugar-free foods, this isn't mandatory.
There is nothing you need to avoid; all foods can fit even if you have diabetes. The key in diabetes management is spreading out food throughout the day so your body can handle a reasonable amount of carbohydrate at one time.  Carbohydrates are found in foods such as grains, pasta, rice, bread, legumes, potatoes, corn, fruit, milk, yogurt and sweets.  
If you have just been diagnosed with Type 2 diabetes limit obvious sugary foods such as pop, fruit juice, candy and sweets to get your blood sugars under control.  Once blood sugars are better-managed, work with a Registered Dietitian that is also a Certified Diabetes Educator can help you understand how to incorporate special foods such as desserts into your diet.
Eating carbohydrate-rich foods with a source of protein has an important role in blood sugar management. Protein-rich foods, such as meat, seafood, poultry, cheese, eggs, peanut butter and nuts, help to slow down the release of carbohydrate-rich foods into the blood stream, thereby preventing fast surges in blood sugar. Protein is also helpful in weight control since protein-rich foods are slow to digest and contribute to the feeling of fullness.
While the type of food you eat is important for health, when it comes to healthy blood sugar management portion sizes are equally important to the type of food eaten.  For example, if you had the choice between baking your favourite regular sugar muffin recipe or trying a lower sugar muffin recipe, the most important consideration is having only one at a time regardless of the choice.
#3
Myth: I only need to pay attention to the sugar on the label

Fact: There are several important things to look at on a food label
The number one most important thing for someone with diabetes to examine on a label is the total grams of carbohydrates.  This is because most carbohydrates (except fibre) are sugar to your body and directly influence blood sugars.  
The type of sugar in grains, pasta, rice, bread, legumes and starchy veggies are complex carbohydrates (contain longer chains of sugar similar a pearl necklace with each pearl representing a sugar).  Foods such as fruit, milk, yogurt, some vegetables, beer, table sugar and sweets have simple carbohydrates (single or double units of sugar).
There are other important numbers to look at on a label if you have diabetes.  If you are overweight then watching your calories is important.  Since individuals with diabetes are also at risk for heart disease reducing trans fats, saturated fats and sodium is key.  Choosing higher fibre foods as well as meals and snacks that contain protein is also helpful to help improve blood sugar control.
#4
Myth: I must have 3 meals and 3 snacks each day
Fact: Eat every three to five hours
While grazing has been suggested to be helpful for managing blood sugars, be aware that not everyone needs to eat every two hours.  Snacking constantly may contribute to excess calories and weight gain, which doesn't help diabetes management.

Eat every three to five hours and disperse carbohydrate-rich foods throughout the day in addition to taking diabetes medication as prescribed by your physician.
#5
Myth: I must consume alternative sweeteners
Fact: Alternative sweeteners are a choice but certainly not required
Some individuals will choose to consume foods such as diet beverages, sugar-free sweets and diet yogurt.  While this is not necessary, should you choose to consume these you can refer to the ADI (acceptable dietary intake) set up by Health Canada and information from the Canadian Diabetes Association for alternative sweeteners such as aspartame and sucralose.
If you don't enjoy the taste of alternative sweeteners or simply prefer to skip these foods and enjoy small portions of regular sugar this is not a problem.  Small amounts of regular sugar and dessert can be included but you do need to be savvy about how much and also what else you are eating with them.  Work with a Registered Dietitian that is also a Certified Diabetes Educator for help.  If you are going to have a sweet dessert look for recipes that use less sugar and icings in general.  Also eat your dessert separate from a meal so you can spread out how much carbohydrate you are having at one time. Lastly, head out for a walk or any type of physical activity since this is one of the single most effective ways to lower your blood sugars.
If you need assistance working with the demands of managing blood sugar levels, carbs, and life, contact us to speak to a Registered Dietitian.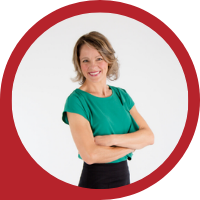 About Andrea Holwegner
CEO, Registered Dietitian, Counseling Practice Director & Professional Speaker
Andrea the «Chocolate Loving Nutritionist» is founder and CEO of Health Stand Nutrition Consulting Inc. since 2000. She is an online nutrition course creator, professional speaker and regular guest in the media. Andrea is the recipient of an award by the Dietitians of Canada: The Speaking of Food & Healthy Living Award for Excellence in Consumer Education....Read more