Top Health and Wellness Trends for Fall 2018
Honey, charcoal, facial fitness and more top the list for food and fitness trends
Self-care and taking charge of your health and wellness are important to achieve well-being in body and mind. These wellness trends are gaining popularity and advocates, and are taking over social media!
Here are the top health and well-being trends in the Fall of 2018:
Manuka Honey
Manuka honey grown in New Zealand from tea tree plant is prized for it's germ killing healing properties. Manuka honey sells for $50 – $100 a jar. Popular as a superfood and a cosmetics ingredient, and FDA approved as a topical antibacterial ointment, this honey's popularity is leading to counterfeits. Testing MGO levels, it's germ-killing property, determines if it is authentic Manuka honey.
Facial Fitness Workouts
Face workouts have been around for a while, but they're gaining traction as facial workout videos, classes and products hit the market. Touted to tighten facial muscles and reduce signs of aging, a recent study by JAMA Dermatology says a regimen of face workouts can make women look years younger. Facial cupping and jade rolling are part of the facial fitness trend.
The Ketogenic Diet
Commonly known as the keto diet, this is a low-carb, high-fat diet typically containing a percentage of total calories as follows: 5% carbohydrates, 75% fat, 20% protein. This diet is designed to use burning fat as fuel, and advocates praise its fast weight loss results, but sustainability is certainly under question as is the nutritional adequacy. Read my full article here: To keto or not to keto, that is the question: a dietitians thoughts about the keto diet.
Gua Sha
A traditional Chinese medicine practice, gua sha is a type of massage to relieve muscle and joint pain that involves a therapist using a flat tool to apply pressure across the skin in order to stimulate lymph nodes and boost circulation. It is increasingly popular as a facial treatment for puffy face, acne, rosacea and TMJ.
Tabata
Tabata training is high-intensity interval training (HIIT) workouts with exercises that each last 4 minutes. Touted as a miracle workout, fans say, "4 minutes of Tabata can get you better fitness gains than an entire hour of running on the treadmill."
Charcoal
Activated charcoal is showing up in everything from toothpaste and shampoos to cosmetics to juices and smoothies to pills and even cocktails. Fans say it's a great detoxer and cleanser, while doctors and nutritionists are skeptical: while moderate intake appears to be fine "a high intake over an extended period of time can whittle away the essential vitamins and minerals that are in your digestive system."

If you're considering adding one of the latest health trends into your wellness routine, I advocate moderation and doing your research. As The Chocoholic Nutritionist I believe anyone can achieve health without guilt or complexity, and that the secret to long-term success is having fun! 
For more healthy eating advice join one of our free newsletters:
Sound Bites nutrition newsletter: loaded with everyday healthy eating tips, nutrition videos and healthy recipes. When you subscribe we will also send you a copy of our popular resource "51 healthy snack attacks!"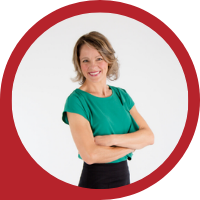 About Andrea Holwegner
CEO, Registered Dietitian, Counseling Practice Director & Professional Speaker
Andrea the «Chocoholic Nutritionist» is founder and CEO of Health Stand Nutrition Consulting Inc. since 2000. She is an online nutrition course creator, professional speaker and regular guest in the media. Andrea is the recipient of an award by the Dietitians of Canada: The Speaking of Food & Healthy Living Award for Excellence in Consumer Education....Read more