Fast healthy breakfast ideas for back to school
Watch my interview on Global TV Morning show
Fast healthy breakfast ideas for back to school:
• According to the Ipos Reid poll on behalf of Breakfast Cereals Canada, mornings are the most stressful time of the day for 60% of Canadians
• Morning time is a guilty time – especially for moms (64% feel guilty about the morning meal because of breakfast skipping or offering less healthy options etc.)
• In the rush out the door we are playing hooky with our health (Albertans are the biggest breakfast skippers of any province with 75% skipping some or all breakfasts during the week).
• Why is breakfast the most important meal of the day? Mental alertness, energy/focus at school and likely helpful for healthy weight management. Breakfast skippers tend to eat less vitamins and minerals overall and this is unlikely to be made up for later in the day.
• Biggest challenge standing in the way of a nutritious breakfast is time (40%)
• What are some small changes that can have big improvements to crunch time? Visit www.morningcrunchtime.ca and try out some of the ideas below:
5 Quick and healthy breakfast ideas
Traditional: The night before, put all the bowls, spoons and boxes of cereal on the table. As kids get older they can serve themselves and all you need to do is ensure they have milk and fresh fruit.
Breakfast popsicles and muffin theme: On the weekend, bake a double batch of muffins and freeze. Also make breakfast popsicles ahead by inserting a popsicle stick into a banana, smearing with nut butter and rolling in crushed ready-to-eat breakfast cereal. Freeze.
Trio fun pack: Once per week, boil up hard-cooked eggs (these last in the fridge for up to one week), and cook up a large batch of whole wheat pancakes. In a divided container include eggs, pancakes with jam and easy-to-grab fruit.
Yogurt parfaits: After supper, line your counter with one reusable container per person filled with yogurt. Top with fresh or frozen berries (or try canned unsweetened pineapple, fresh or frozen mango or dried fruit; then refrigerate. In the morning, add granola, muesli or your favourite ready-to eat breakfast cereal. Consider adding ground flax seeds, hemp seeds or your favourite nuts.
All-in-one crunch mix: Line up a bunch of your plastic containers on the counter and have your kids fill them with a mix of dried fruit (such as raisins, dried cranberries, dried figs, dates, prunes, dried apricots), nuts or seeds (such as almonds, pecans, walnuts, cashews, peanuts, pumpkin seeds or sunflower seeds) and a mix of ready-to-eat breakfast cereal.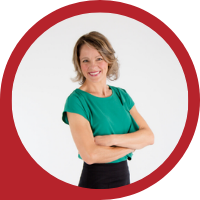 About Andrea Holwegner
CEO, Registered Dietitian, Counseling Practice Director & Professional Speaker
Andrea the «Chocolate Loving Nutritionist» is founder and CEO of Health Stand Nutrition Consulting Inc. since 2000. She is an online nutrition course creator, professional speaker and regular guest in the media. Andrea is the recipient of an award by the Dietitians of Canada: The Speaking of Food & Healthy Living Award for Excellence in Consumer Education....Read more