Fibre – How to Get Enough of a Good Thing
Listen to my podcast to find out how important fibre is for your health: Fibre – How to Get Enough of a Good Thing
Our friend "Fibre" comes in many forms, including whole grains, brown rice, nuts, berries, fruits, vegetables, and legumes (beans, lentils and split peas). While we all know that fibre keeps us regular, did you know that it also makes us feel fuller longer, while providing almost no calories? Fibre is also linked to a lowered risk of heart disease, better blood sugar management, and a decreased risk of some types of cancer.
1. We need more!
Adults are supposed to get 21-38 grams of fibre per day, but most Canadians are nowhere close to this! This is partly because of our diets that tend to be high in animal products (which contain no fibre), while low in fruits and vegetables.
2. Two friends are better than one
There are two types of fibre: Insoluble and Soluble.
Insoluble fibre is not digested by our bodies, but provides roughage that helps with digestion and makes us feel fuller. Insoluble fibre can be found in whole grains, wheat bran, and brown rice. It is also found in the skins, seeds, strings and husks of plant foods, such as the seeds in raspberries or the strings in celery.

Soluble fibre is partially digested by our bodies. It is believed that soluble fibre can form a gel that traps cholesterol and removes it, which can help prevent heart disease. Another benefit is that it helps with blood sugar control. Soluble fibre can be found in oats, psyllium (a high-fibre grain grown in India that can now be found in some breakfast cereals), some fruits and vegetables (such as apples and pears), barley, and legumes.
3. Don't get too much of a good thing
Fibre should be increased in your diet gradually – too much too soon can cause bloating and discomfort. And be sure to increase your fluid intake as you increase your fibre intake to help maximize the benefits of the fibre.
Also, avoid having more than 60g of fibre per day since this can lead to dehydration and even some nutrient deficiencies.
4. Making friends with fibre is easy!
Mornings are often the easiest times to boost your fibre intake… opt for high fibre cereals or granola bars, oatmeal, bran muffins, or whole grain breads, and pair with fibre-loaded berries or fresh or dried fruit as part of your morning routine. Make sure to include a protein source as well, such as eggs, cheese, or peanut butter, to keep you satisfied and energized.
It's also easy to sneak fibre into your usual meals and snacks. Crunchy high-fibre cereals can be sprinkled on your favorite cereal, yogurt, or salads. Spread hummus on wraps and sandwiches instead of butter or mayonnaise. Add beans or lentils to soups, casseroles or spaghetti sauce. Or add nuts, dried fruit, chickpeas or a variety of raw veggies to your salads… and have a whole-grain roll on the side.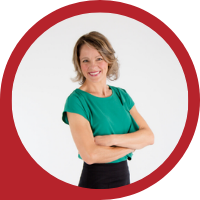 About Andrea Holwegner
CEO, Registered Dietitian, Counseling Practice Director & Professional Speaker
Andrea the «Chocoholic Nutritionist» is founder and CEO of Health Stand Nutrition Consulting Inc. since 2000. She is an online nutrition course creator, professional speaker and regular guest in the media. Andrea is the recipient of an award by the Dietitians of Canada: The Speaking of Food & Healthy Living Award for Excellence in Consumer Education....Read more