Find a balance in your eating habits over the holidays and beyond
Holiday Survival Guide
By Andrea Holwegner, For The Calgary Herald December 23, 2010
One of the things they didn't tell me when I became a registered dietitian was that for the rest of my life there would be people observing my nutrition habits.
The festive holiday season is certainly no exception, but at times it can feel like I am being followed by food paparazzi who are waiting to jump all over me when I eat something unexpected.
Earlier this month, I attended a holiday dinner function where someone beside me declined having wine and dessert since she claimed they had too many calories. I could feel her judgment when I chose to have both. A fellow at my table was surprised to see that I chose to eat a white dinner roll since he thought dietitians would only eat whole grain breads. He was aghast when I put butter on my bun instead of eating it dry.
As I ate my dinner that night, I contemplated why eating had become so complicated — I felt a sense of shame that somehow the field of nutritional science, which I am typically proud to be part of, had let people down.
I believe there is a way to really have it all — good health, a balanced weight, and take pleasure in eating ALL foods.
Figuring out food and how to balance your nutrition is a challenge, considering there is conflicting information wherever you turn. Sometimes with so many options, I think we complicate things more than we need to do. I vote for simplifying eating by starting with the following four concepts.
Find harmony between health and enjoyment
While healthy eating is absolutely important, so is enjoying your food and being flexible in your relationship with it. I meet many people who make all their choices based on taste with little consideration to health. While this is not the answer and can lead to health issues, a diet based on nutritional perfection isn't ideal either.
Give yourself permission to enjoy all foods, and remember, there are no bad foods. We all want what we can't have — trying to remove your favourite foods will only lead to overdoing them and feelings of failure for not sticking to your perfect eating regime.
Listen for trends, but break the rules
Pay attention to new nutrition research that is profiled in the media and get a sense for overall eating strategies that are good for your long-term health — but keep them in perspective.
Just because overall it's a good idea to eat less fat, get more whole grains or watch your sodium intake doesn't mean that every food choice you make must follow this recommendation. It is fine to break the rules and deviate from the healthy eating standard.
See the big picture
Don't forget to see the big picture and look at your diet as a whole instead of analyzing every food choice. There are no bad food choices, just bad overall diets.
I often get asked at this time of year about how to make Christmas dinner healthier. But why worry about this one meal out of the whole year?
I personally look forward to enjoying my mom's famous holiday baking and our traditional holiday meal.
Wouldn't it be easier to eat healthy on the days before and after important events such as this?
It really doesn't matter what you do between Christmas and New Year's, it is what you do between New Year's and Christmas that counts.
Be the life of the party!
I want you to be the life of the party and enjoy whatever goodies are provided at holiday events. Don't be the person at a holiday party who just orders the salad and skips dessert while everyone else is enjoying the best of the season.
I personally live by the concept that when you are on your own, eat your best and when you are with others, have more flexibility. It is far easier to make the healthiest choices when you are packing your lunch for work or preparing a typical, mid-week family meal for supper. It makes no sense to me to eat poorly on your own and then try to use constraint when you have little control over the menu while eating out or enjoying food at a friend's house.
During the holiday season and as the new year approaches, remember to be flexible and find balance between guilt-free eating and healthy nutrition habits. This really is the recipe for success.
Andrea Holwegner is president of Health Stand Nutrition Consulting Inc. Visit www.healthstandnutrition.com and www.chocoholicdietitian.com or phone 403-262-3466 for more information on personalized nutrition counselling, seminars and to subscribe to our blog or free monthly ezine
Read more: http://www.calgaryherald.com/health/Find+balance+your+eating+habits/4018039/story.html#ixzz19iaEpjew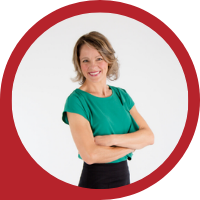 About Andrea Holwegner
CEO, Registered Dietitian, Counseling Practice Director & Professional Speaker
Andrea the «Chocolate Loving Nutritionist» is founder and CEO of Health Stand Nutrition Consulting Inc. since 2000. She is an online nutrition course creator, professional speaker and regular guest in the media. Andrea is the recipient of an award by the Dietitians of Canada: The Speaking of Food & Healthy Living Award for Excellence in Consumer Education....Read more