Finding Balance with an Eating Disorder Dietitian [VIDEO]
Should you see a dietitian for eating disorders?

Discover how to choose an Eating Disorder Dietitian + more
When we think about healthy eating, oftentimes, people's impression of what Dietitians teach is all of the nerdy nutrition aspects, like getting enough vegetables and drinking enough water. Of course, those are really important from a long-term health perspective but what sometimes gets missed when we talk about healthy eating is the soulful aspect of eating. What I mean by soulful eating is really being able to have a healthy relationship with food and your body, and one that includes things like chocolate, potato chips, foods that we choose for taste and enjoyment. 
So in our practice, our dietitian team really works hard to make sure that we're eating fully – we define that as eating healthfully and eating soulfully. It's really about a balance that is going to be good for long-term health and mental health and just overall having a little bit more fun. 
In this blog post, I'll guide you through what an eating disorder dietitian is, what they can do for you, and how to find the right one for you. 
What is an eating disorder dietitian?
You might be wondering, what does a dietitian even do and what does an eating disorder dietitian do? First of all, if there's been some anxiety and fear about seeing an eating disorder dietitian, I don't blame you because of course, the word dietitian has the word "diet" in it. It also has the word "die". So, it probably feels like a really scary experience coming to see us.  
I want to give you an understanding though, that an eating disorder dietitian really has no interest in trying to change your food or make drastic changes that you feel will be something that you just can't do. Our goal is to really meet you where you're at right now in whatever phase of recovery that might look like and work with you in what we consider a co-pilot relationship. You're the pilot, we're flying the plane together on your journey to recovery. We're sitting next to you and we're providing advice, guidance, science information, fact checking information along the way on how to navigate some of those tricky situations when it comes to eating.  
So again, eating disorder dietitians – we are an ally, a friend and a co-pilot to you. We're really not after trying to control the situation, that is your job.  
What does a dietitian do for eating disorders?
Dietitians can really help with the different phases of eating disorder recovery. In the beginning when you might be struggling with under nourishment and not simply getting enough good nutrition, we're going to work with you on what we call mechanical eating. Mechanical eating is really where we teach you to be able to trust us first before we can actually get you in a place where you can trust those hunger cues and your ability to make choices that are going to be conducive for your health. We work with your family, support person or maybe just one-to-one to really build that plan together and execute it on a structured schedule… but we don't want you to live there for life. 
In time, what we're going to find is that your ability to detect hunger and fullness cues and to be able to trust your healthy self versus some of those eating disorder thoughts that are obsessive and relentless when it comes to your eating choices. We're going to move you more into what we call an intuitive eating approach to eating. That's really where things are going to be a lot more flexible. They'll still be a little bit of structure, but there's going to be a lot more sort of gray in terms of what, when and how much you're eating over time. 
At the end of the recovery phase, we really start to get you to be in the driver's seat and we throw some challenges at you because we know you're ready for it: different social situations, different food, fear challenges and these types of things. If that sounds overwhelming, don't worry, you don't have to get there overnight. This process is going to be slow and it's going to be step-by-step at a time that you're ready for it. 
How do you find an eating disorder dietitian?
So how do you find an eating disorder dietitian? That is a very good question. Different dietitians are experts in different things.  These are some key things you should be looking for when looking for an eating disorder dietitian: 
1. Has Experience & Knowledge in Different Eating Disorders
You're really looking for someone that has knowledge and experience in anorexia, bulimia. arfid, other binge eating types of issues. Somebody that's got some experience with other clients is first what you're going to check.  
2. Good Connections with Health Care Providers
You also want to know that they've got good connections with mental health care providers such as psychologists and are really working and willing to work with your family physician and your therapist team to be able to collaborate for your care.  
3. Specializes Directly in EDs
When you're looking at finding an eating disorder dietitian, similar to how you wouldn't necessarily go to talk to your family doctor if you needed a cardiologist to address a heart issue… you wouldn't go to a general dietitian for specific mental health and eating disorder recovery. You really want somebody with that exact area of expertise.  
4. Is a Registered Dietitian
If you notice I keep using the word eating disorder dietitian. When you're looking for a nutrition expert to help you through eating disorder recovery, you want to make sure that the person you're working with is a registered dietitian, they'll have the word RD behind their name. This is really important because it ensures you're getting credible sound advice from someone with a university degree in nutritional science and someone that has to do continuing education to really make sure that they're practicing in a professional and ethical way. 
5. Look at your Insurance Plan
One of the things that I'd also encourage you to do is to take a look at your insurance and see if you're covered for registered dietitian services because it's quite common on your health spending accounts or under health insurance plans with your employer to have some coverage to be able to access this care. 
So if there's anything I would love you to really leave with today it's one thing and it's this: eating fully is about healthful eating and it's about soulful eating. One without the other is going to get you into trouble. We really need to find that balanced relationship with food and the body. 
Contact us to learn more about ways to tackle an eating disorder. 
If you or a loved one are struggling with anorexia, bulimia, ARFID, or binge eating disorder contact us for nutrition support. We have several Eating Disorder Dietitians on our team with a unique specialization in  
nutrition support for eating disorder recovery.
 We collaborate with your family doctor and psychologist to move forward at a pace you can manage for recovery.
Take a peek at some of the other related blog posts on our site!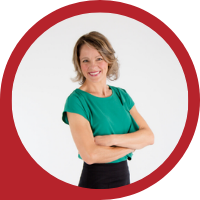 About Andrea Holwegner
CEO, Registered Dietitian, Counseling Practice Director & Professional Speaker
Andrea the «Chocoholic Nutritionist» is founder and CEO of Health Stand Nutrition Consulting Inc. since 2000. She is an online nutrition course creator, professional speaker and regular guest in the media. Andrea is the recipient of an award by the Dietitians of Canada: The Speaking of Food & Healthy Living Award for Excellence in Consumer Education....Read more