Fire Roasted Corn Avocado Salsa Recipe
Top Summer Appetizer or Picnic Lunch Recipe
This delicious recipe is a summer staple! So many fresh flavours combine to make a tasty dip, or topping on a burger.  Serve this as a healthy appetizer, picnic lunch or snack idea.
Makes 4 generous servings.
What you need:
4 ears fresh corn
1 jalapeno pepper
2 ripe, large avocados (or 3 smaller)
1/4 cup prepared pico de gallo
2 Tbsp lime juice
2 Tbsp fresh cilantro, chopped
2 large cloves garlic, minced
How you prepare:
Roast the corn and jalapeno pepper over the fire (using a grill or on a gas stove) until charred and blistered. Once cool enough to handle, cut the corn off the cob.
Chop the avocados, and mix in a bowl with the corn, and pico de gallo.
Remove the seeds from the jalapeno, and mince. Add to bowl with other ingredients, and then stir in lime juice, garlic and salt, and pepper to taste.
Per Serving:
Calories: 369
Fat: 24 g
Carbohydrates: 41 g
Protein: 7.2 g
Fibre: 13 g
Looking for more simple meal planning tips and healthy recipes for a healthier lifestyle?  Sign up for our weekly newsletter for a healthy recipe of the week (and nutrition articles and videos with a balanced living philosophy to help encourage healthy habits but still save room for your favorites). Our nutrition newsletter is written by the Calgary Nutritionists on our team who each hold a professional Registered Dietitian license to ensure you are getting credible advice.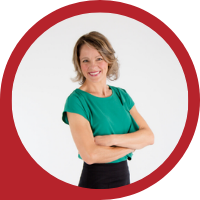 About Andrea Holwegner
CEO, Registered Dietitian, Counseling Practice Director & Professional Speaker
Andrea the «Chocolate Loving Nutritionist» is founder and CEO of Health Stand Nutrition Consulting Inc. since 2000. She is an online nutrition course creator, professional speaker and regular guest in the media. Andrea is the recipient of an award by the Dietitians of Canada: The Speaking of Food & Healthy Living Award for Excellence in Consumer Education....Read more