Food Suggestions for Traveling Athletes
Food Suggestions for Traveling Athletes
By Andrea Holwegner, Health Stand Nutrition Consulting Inc.
Are you an athlete that travels for training or competing? Then this article is for you! Read on to get the facts on eating well on the road…
The Challenges
Someone else plans the menu
Unknown cooking methods
Larger portions than often eaten at home which can contribute to extra calories
Often high-fat – particularly saturated/trans fats which have a negative effect on heart health
Often high-sodium
Often missing: fruits & veggies; calcium rich foods such as dairy/soy; higher fibre choices
Sometimes unbalanced meals
The Goals
Overall nutrition goals for traveling athletes include a diet rich in carbohydrates, adequate in protein, and low in fat. Drink plenty of fluids!
Contains the 3 components of a balanced meal (see below)
Lower in saturated/trans fat for your heart
Nutrient dense – considers choices rich in vitamins, minerals, fibre.
Lower in added sugars
Reasonable portion size for you
Build Balanced Meals
Regardless if you are eating at home or eating out, strive for the 3 components of a balanced meal:
Breakfast, Lunch and Supper should consist of 3 things:

Grain/Starch: bread, pasta, rice, potato, cereal etc.
Vegetables and/or Fruit: fresh/frozen veggies, fresh fruit, dried/canned fruit, fruit juice, tomato/vegetable juice
Protein Source: meat, poultry, seafood, dairy, eggs, soy product, legumes, nuts, nut butter

Grains/starches and veggies/fruits supply your brain and muscles with energy so you will be able to focus/concentrate throughout your day and have the muscle stores needed to train your best.
Why Protein in a Meal? Carbohydrates (grains/starches, vegetables/fruit, sweets) are digested quickly and protein in a meal keeps you full longer because it is digested slowly. Protein is also important in improving muscle/tissue repair post workout and for healthy immune function.
Having a veggie and/or fruit at each meal makes sure you will eat enough by the end of the day and will keep the calories of your meals down.
Top Breakfast Picks:
Hot/cold cereal with milk; fresh fruit; cheese
Yogurt with muesli; dried fruit and nuts
Toast; scrambled eggs; juice
Cottage cheese or cheese; fresh/canned fruit; low fat bran muffin
Pancakes/waffles; back bacon; fresh fruit
Breakfast burrito: scrambled eggs with salsa, cheese, green peppers, mushrooms, and onions rolled in a tortilla/wrap.
Protein shake, dried fruit bar, granola bar
Top Lunch/Supper Picks:
Sandwich with whole wheat bread and mustard (skip added mayonnaise/butter); ham/chicken/turkey/pastrami/roast beef/corned beef/tuna/egg; vegetable soup or salad; fresh fruit
Pasta with meat sauce; salad with vinaigrette; fresh fruit salad
Beef/pork/turkey/chicken cooked with minimal fat; rice/potato prepared with minimal fat; steamed veggies prepared with minimal fat; canned/fresh fruit
Stew/soup with lean meat, veggies, potatoes; whole wheat buns; fresh fruit
Salad with pizza with ham/back bacon/chicken/shrimp; veggies such as green peppers, mushrooms, onions, olives, tomatoes; cheese
Chili served over rice or with a bun, side salad
Grilled chicken breast or lean hamburger on a bun with lettuce, tomato, onions and a side salad.
Top Snack Attacks:
Piece of fresh fruit and yogurt
Dried fruit (such as apricots, raisins, cranberries, apples, prunes) and nuts
Dried fruit bar and glass of milk
Yogurt and muesli/granola
Canned fruit or applesauce cup and a handful of almonds
Crackers and Cheese
Hot cocoa made with milk, latte or steamer
Chocolate milk or flavored soy milk and banana
Raw Veggies and Dip – try carrots, celery, cherry tomatoes, green/red peppers, zucchini, cucumbers, broccoli, cauliflower etc.
V8, tomato, or clamato juice and a wedge of cheese
GORP – Good old raisins and peanuts
Cottage Cheese with sliced apples/pears and cinnamon
Granola bar, cereal Bar, or sports bar with an unsweetened juice box
High-fibre muffin and glass of milk
Hot or cold cereal and milk
Toast and peanut butter
Flavored dessert tofu
Smoothie (for recipe see recipes section)
Homemade energy bar (for recipe see recipes section)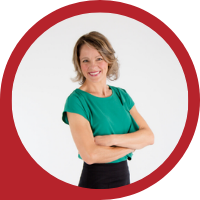 About Andrea Holwegner
CEO, Registered Dietitian, Counseling Practice Director & Professional Speaker
Andrea the «Chocolate Loving Nutritionist» is founder and CEO of Health Stand Nutrition Consulting Inc. since 2000. She is an online nutrition course creator, professional speaker and regular guest in the media. Andrea is the recipient of an award by the Dietitians of Canada: The Speaking of Food & Healthy Living Award for Excellence in Consumer Education....Read more