FREE Public Seminar: Show me the Weigh! Nutrition for weight management
Show me the Weigh!
Nutrition for weight management
Looking for safe and effective ways to really lose extra pounds and keep them off?
See through nutrition quackery by learning proven principles of weight-loss that really make a difference. Plus, discover the top weight management tips that help you manage hunger and still enjoy your favorite foods.
Andrea will discuss the most important changes you can make to what or how you are eating that has profound changes to your health, energy and weight management. Andrea will wrap relevant content and solutions in an entertaining, humorous session and show you that you needn't be perfect to achieve good health (she is the Chocoholic Nutritionist after all!).
Date:  Sunday, January 11, 2015
Time:  10:00 a.m.
Location:  1607 – 90 Ave. SW, Calgary
Presented by: Andrea Holwegner BSc, RD
Andrea Holwegner, the "Chocoholic Nutritionist" is founder and president of Health Stand Nutrition Consulting Inc. since 2000, a member of the Canadian Association of Professional Speakers and a media expert for the Dietitians of Canada. Andrea leads a great team of dietitians at her practice and has counselled hundreds of clients on the benefits of healthy eating including Olympic athletes. She is a regular guest on Global News-Morning, CTV Morning News, CITY-TV's Breakfast Television, and a regular writer for The Calgary Herald. As one of the few dietitians in North America that speaks professionally, she delivers relevant education with a fun and entertaining delivery style. Andrea will show you the recipe for success is learning how to enjoy guilt-free eating and balance ALL foods!  www.healthstandnutrition.com  Twitter: @chocoholicRD
Along with this free event, the Calgary JCC is offering a wide range of FREE classes and seminars which you should check out here: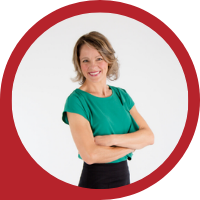 About Andrea Holwegner
CEO, Registered Dietitian, Counseling Practice Director & Professional Speaker
Andrea the «Chocolate Loving Nutritionist» is founder and CEO of Health Stand Nutrition Consulting Inc. since 2000. She is an online nutrition course creator, professional speaker and regular guest in the media. Andrea is the recipient of an award by the Dietitians of Canada: The Speaking of Food & Healthy Living Award for Excellence in Consumer Education....Read more