Fresh Summer Produce
Tips for fresher, longer lasting produce
 With the season of Farmer's Markets, and local produce here, it's helpful to make sure you are enjoying that produce at it's very best.
To be sure your veggies and fruit are enjoyed at their maximum freshness be sure you are storing your produce effectively:
Tomatoes – store on the counter (not in the fridge since cold temperatures reduce flavor and stops ripening).
Asparagus – store in the fridge standing up in a mug or measuring cup with some water
Corn – keep in the husks for 2-3 days, since once husked it needs to be consumed quicker. The sooner you eat corn once picked the better since natural sugars turn to starch.
Apples – store refrigerated as they soften 10 times faster when at room temperature. Apples can last 2 or more weeks and sometimes for months in perforated plastic bags in crispers.
Avocados – to maximize flavor store avocados on the counter until ripe and then they can be stored in the refrigerator 2-5 days.
Herbs – place stems in water and cover with a plastic bag in the refrigerator for up to a week. Fresh basil is cold sensitive so keep at the front of the fridge.
Garlic – store at room temperature in a cool, dry and dark place (refrigeration causes sprouting).
Onions – store in a dark, dry and cool place or refrigerate and keep away from other fruits and veggies (especially carrots, apples, grapes,) since they can impart their flavor easily especially once cut.
Potatoes – only new potatoes should be stored in the fridge. For mature potatoes store in a paper bag in a dark, dry and cool place (refrigeration causes dark spots and an unpleasant sweet flavor when cooked). For all potatoes, keep away from heat since this can cause sprouting and keep away from light, which can cause green spots to occur that must be cut away before consuming.
Looking for ways to enjoy that fresh produce? Check out our Recipe Section for some great ideas!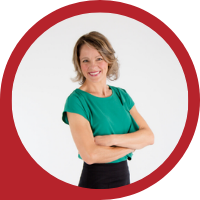 About Andrea Holwegner
CEO, Registered Dietitian, Counseling Practice Director & Professional Speaker
Andrea the «Chocolate Loving Nutritionist» is founder and CEO of Health Stand Nutrition Consulting Inc. since 2000. She is an online nutrition course creator, professional speaker and regular guest in the media. Andrea is the recipient of an award by the Dietitians of Canada: The Speaking of Food & Healthy Living Award for Excellence in Consumer Education....Read more