Fun Easter Foods
Try these fun ideas to brighten the holiday
With Easter just around the corner and family celebrations still on hold, you might be looking for something fun to do with your families at home to celebrate the season. Food is often something we incorporate into holidays or gatherings because food can be not only nutritious and delicious but also fun and engaging.
Whether you are single or have a family to feed, try some of these fun Easter food ideas to brighten this season's meals and snacks! We all need a little something special to make us smile, and food can do just that! 
10 Fun Easter Food Ideas
1) Sandwich Shapes
Try using Easter shaped cookie cutters to cut out fruit or sandwich items such as the bread, meat and cheese to make cool shapes like easter eggs or bunny heads   
2) Hard Boiled Egg Bunnies
Make the shape of bunnies or chicks out of hard boiled eggs by taking 2 hard boiled eggs and cutting one into half and then one side into quarters and the second one into 3 rounds. Place the larger round of the second egg as the head, the half of the first egg as the body and the 2 quarters as the ears. Cut the top round into quarters and place as the feet. Cut the third round of the second egg into a tail. Using some chives as the whiskers and a triangle cut from a carrot as the nose, with 2 black sesame seeds as the eyes! Thanks to CBC for this idea. 
3)  Colorful Berry Pancakes
Add some pureed raspberries or blackberries to your pancake or waffle mixture for an Easter coloured theme breakfast 
 
4) Stuffed Carrot Sandwiches
Make a cone shape out of croissant rolls or dough by wrapping it around a tinfoil cone shape, bake and cool. Then stuff with sandwich filling of choice – egg, tuna or chicken salad – then top with a sprig of parsley as the 'carrot' top! 
5) Bunny Food 
Make a veggie platter and call it a bunnies garden, use plastic easter eggs filled with a baby carrot, cherry tomato or dip. Add some extra 'guests' into the patch as decoration. Or make it into the shape of a bunny.   
6) Egg-shaped Cheese Ball 
As a snack, make a cheese ball with cream cheese, green onion, spices and shape it as an Easter egg, carrot or bunny bottom and serve it with crackers and veggies.   
7) Bake with Carrots
Try making themed items like carrot muffins or carrot cake smoothies  
8) Elegant Carrot Tart 
Make a puff pastry tart as a side to your meal by using puff pastry and spread herbed cheese such as Boursin cheese or herbed cream cheese on the pastry. Then alternate carrots with their tops on and asparagus in the tart, bake and serve.   
9) Bunny Pretzels 
Make bunny shaped soft pretzels by twisting the dough into bunny ears and put a ball of dough for the tail   
10) Bunny Bait Snack Mix 
Snack on some bunny bait trail mix – create your own mix by using popcorn, cereal, pretzels, nuts, seeds, dried fruit and pastel coloured m&m's or mini eggs. 
We hope you've found some inspiration in these Fun easter food ideas! If you give one a try, or if you have your own fun Easter food tradition, please share it with us in the comments below.
Looking for more simple meal planning tips and healthy recipes for a healthier lifestyle? Sign up for our weekly newsletter for a healthy recipe of the week (and nutrition articles and videos with a balanced living philosophy to help encourage healthy habits but still save room for your favorites). Our nutrition newsletter is written by the Online / Calgary Nutritionists on our team who each hold a professional Registered Dietitian license to ensure you are getting credible advice.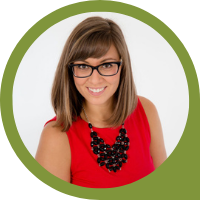 Shauna Kime
Registered Dietitian & Online Nutritionist - Weight Concerns, Women's Health, Diabetes & Meal Planning
The first thing you will notice about Shauna is her contagious optimism, energetic personality and zest. Shauna loves teaching and has a heart full of compassion and empathy for helping clients work through health concerns. Shauna specializes in healthy cooking, diabetes, cardiovascular health, weight concerns and womens health. Read more