Get to Know Your Dietitian: Shauna Kime
Calgary Dietitian
Specializing in weight concerns, women's health, diabetes & meal planning
Our Calgary Dietitian / Online Nutritionist Team is excited to welcome a new team member to our practice!
The first thing you will notice about Shauna is her contagious optimism, energetic personality and zest.  Shauna loves teaching and has a heart full of compassion and empathy for helping clients work through health and weight concerns.  You can't help to feel more confident and excited to take action to improve your health after spending time with her.
Areas of specialty as a Dietitian:
Chronic disease management specializing in type 1 and type 2 diabetes, women's health, weight concerns, meal planning and cooking skills.
My overall background as a Dietitian:
I have diverse experience traveling and working abroad as well as in Canada. After I graduated from the University of Wollongong, Australia, I travelled throughout Europe, gaining an appreciation for the important connection between traditions and cultural foods.
I have worked in a private clinic setting focusing on weight management, healthy behaviours and disordered eating. I have also worked with Alberta Health Services specializing in diabetes management.
I enjoy sharing my passion for all things food by teaching cooking classes to all ages, guiding them in kitchen skills and a basic understanding for nutrition and home cooked meals.
My favourite part about being a Dietitian is:
My favourite part about being a Registered Dietitian is getting to build relationships with my clients and understanding how to best help them.
I love engaging with clients and helping them restore their relationship with food. I have a passion for being in the kitchen, whether it is baking or cooking and I hope to share that with those I get to work with.
One myth that I want to clear up about Dietitians is:
We eat MORE than just vegetables! It is true, most Dietitians have a love for vegetables and will eat most of them, but that is not all we eat.
We do know that vegetables provide so many vitamins, minerals and fiber to our diet, and that they play in important role in our daily diets.
However, a plain lettuce salad couldn't be more boring to eat just to get in those nutrients. There are so many ways to 'dress up a vegetable' and that's often why we love them so much. BUT we can't forget about the rest of a balanced plate – protein and carbohydrates.
Favorite nerdy nutritious food chosen for health is:
Cottage Cheese!! I grew up hating cottage cheese as I thought it smelt like dirty feet. But as I started experimenting with different foods I found a love for cottage cheese.
There are so many different things you can do with it – sweet or savoury, add it to salads, into pastas, use as a dip and so so much more.
It is super high in protein, which can help fill you up and is important in development of muscles, bones and enzymes in your body. Buy the low sodium versions and this will reduce the salt content as it can be quite salty.
My favourite snack with cottage cheese is: cottage cheese, diced small -tomato, bell pepper, cucumber, red onion, avocado, ground pepper, and scoop with whole grain crackers…yum.
Favourite soulful food chosen for taste, enjoyment and social fun is:
I love all things food but my favourite soulful food is ice cream, no matter the time of year or weather outside, a good bowl of ice cream is perfect. I enjoy making my own ice cream and experimenting with flavours, however peanut butter is my ULTIMATE favourite.
I also love a good high tea – its usually amazing foods and a great time shared with friends or family. I made a high tea for my friends birthday and it was a lot of fun.
I also love to make my Grandmas special recipe for homemade cinnamon buns for special occasions.
Something that people may not know about me is:
I'm pretty much an open book so there isn't much about me that someone out there doesn't know. I believe in sharing your struggles and successes with those you trust. I find this helps me learn from my mistakes and lean on those who have more experience than me. It also allows me to share my successes whether big or small.
The other thing you should know about me is that I'm a people person and a dog person. My friends and family are super important to me. I'm also an active member of my church community and empower adolescent girls as a youth leader. And yes I'm a dog person. You'll often find my husband and I spending time outdoors with our adorable dog Koda.  
Last but not least I'm a huge Harry Potter fan. I got to visit Hogsmeade in Universal Studios last year and it was the best day ever!  I also love Disneyland (because hey you are never too old for Disney).
Read Shauna's full Dietitian bio here: Registered Dietitian Calgary: Shauna Kime
If you are seeking support from a Calgary Nutritionist / Dietitian for Type 1 Diabetes or Type 2 Diabetes Shauna is your gal.  Shauna also specializes in weight concerns, women's health and helping you develop better meal planning and cooking skills for your healthy lifestyle.  
Shauna can see you in our local Calgary Nutritionist office or as an Online Dietitian by phone or video conferencing for virtual nutrition counseling. Find out more about our Dietitian Nutrition Counseling Programs here.
As university trained Registered Dietitians, you can count on us for credible advice and practical meal planning so you don't have to stress about food anymore. You can achieve a healthy and joyous relationship with food and your body. Let's talk about what this can look like for you. CONTACT US.
Looking for more nutrition support from the comfort of your own home? Join the waiting list for our next Online Nutrition Course The Pursuit of Healthiness.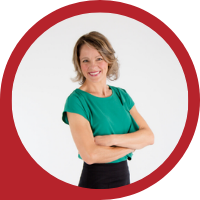 About Andrea Holwegner
CEO, Registered Dietitian, Counseling Practice Director & Professional Speaker
Andrea the «Chocolate Loving Nutritionist» is founder and CEO of Health Stand Nutrition Consulting Inc. since 2000. She is an online nutrition course creator, professional speaker and regular guest in the media. Andrea is the recipient of an award by the Dietitians of Canada: The Speaking of Food & Healthy Living Award for Excellence in Consumer Education....Read more