Ginger Lime Salmon Skewers Recipe
Healthy Salmon Skewers Grilling Recipe!
This delicious BBQ recipe for ginger lime salmon skewers is rich in heart-healthy omega-3 fats.  Serve over rice and enjoy!
Makes 4 servings
What you need:
4 skinless salmon or halibut fillets (4 oz each)
1 piece ginger root, minced (1 inch)
1 hot red or green pepper, seeded and minced
3 tbsp chopped cilantro
2 tbsp soy sauce
1 tbsp lime juice
2 tsp vegetable oil
Pinch granulated sugar
1 sweet red pepper, cut into 1 ½ inch pieces
1 small zucchini, cut into thin rounds (optional)
4 lime wedges
How you prepare:
1. Cut salmon or halibut into 1 ½ inch cubes.
2. In large bowl, mix together ginger, hot pepper, cilantro, soy sauce, lime juice, oil and sugar.
3. Add salmon or halibut and toss to coat. Let stand for 10 minutes. (Make ahead: cover and refrigerate for up to 30 min)
4. Thread salmon, red pepper and zucchini loosely onto 4 metal skewers reserving marinade.
5. Place on greased grill over medium heat; brush with marinade. Close lid and grill, turning twice, until fish flakes easily when tested, about 10 minutes.
6. Serve with lime wedges to squeeze over top.
Per serving:
Calories: 284
Carbohydrates: 4g
Protein: 41g
Fat: 11g
Want More Dietitian Approved Healthy Recipes?
Looking for more simple meal planning tips and healthy recipes for a healthier lifestyle?  Sign up for our weekly newsletter for a healthy recipe of the week (and nutrition articles and videos with a balanced living philosophy to help encourage healthy habits but still save room for your favorites). Our nutrition newsletter is written by the Calgary Nutritionists on our team who each hold a professional Registered Dietitian license to ensure you are getting credible advice.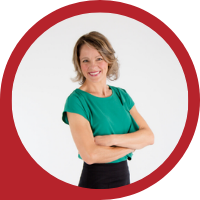 About Andrea Holwegner
CEO, Registered Dietitian, Counseling Practice Director & Professional Speaker
Andrea the «Chocoholic Nutritionist» is founder and CEO of Health Stand Nutrition Consulting Inc. since 2000. She is an online nutrition course creator, professional speaker and regular guest in the media. Andrea is the recipient of an award by the Dietitians of Canada: The Speaking of Food & Healthy Living Award for Excellence in Consumer Education....Read more