Employee Nutrition – Good Health is Good Business
Healthier employees save corporations money in the long run
By Andrea Holwegner BSc., RD
The working world has become more stressed, and that is taking a toll on the health of Canadians. In the current recession, employees might be worried about job security and salary reductions or be expected to work longer hours or be accessible and connected to their jobs 24 hours a day, 7 days a week.
Now more than ever, it is important for companies to invest in wellness strategies to help support the health of their employees. Without a healthy team, companies will face higher bottom line costs and reduced employee health.
Employer return on investment
There are clear benefits to employers who choose to invest in wellness, including:
Decreased corporate health care costs.
Improved employee health and wellness.
Maximized employee energy, effectiveness and productivity.
Decreased employee absenteeism, sick days and stress or medical leaves.
Increased employee appreciation and job satisfaction.
Boosted team cohesion and office morale.
Improved bottom line.
Enhanced corporate image, recruitment and retention.
Reputation as one of the top world class employers.
In February 2008, the Journal of Occupational and Environmental Medicine published one of the most comprehensive research studies on the impact of employee wellness programs on health care costs over four years. The results suggested that the return on investment was $1.65 US for every dollar spent on employee wellness programs.
These results are consistent with a 2005 review of the economic return on worksite health promotion published in the American Journal of Health Promotion. The average return on investment in the 22 studies mentioned in that review was $5.81 US for every dollar spent on employee wellness programs.
Attributes of a healthy workforce
According to an occupational medicine forum published in 2006 in the Journal of Occupational and Environmental Medicine, a "healthy workforce" for both individuals and organizations is characterized by four key attributes:
Healthy: demonstrating optimal health status as defined by positive health behaviors, minimal modifiable risk factors and minimal illnesses, diseases and injuries.
Productive: functioning to produce the maximum contribution to achievement of personal goals and organizational mission.
Ready: possessing an ability to respond to changing demands given the increasing pace and unpredictability of work.
Resilient : adjusting to setbacks, increased demands or unusual challenges by bouncing back to optimal "well-being" and performance without incurring severe functional decrement.
Practical workplace wellness ideas
Companies can choose to support wellness initiatives in a wide variety of ways depending on the company budget and employee concerns and interests. Here are a few practical ways companies can help support a healthy workforce:
Offer ongoing lunch and learn sessions, wellness retreats and half-day training sessions to increase knowledge of nutrition, fitness, emotional health and other areas. For more information on workplace wellness program ideas visit:www.healthstandnutrition.com.
Provide on-site fitness/yoga/relaxation programs.
Make shower facilities available for those who wish to cycle to work or go for a walk or run on their lunch hour.
Offer a pedometer challenge, with prizes for individuals or departments that walk the most steps over a given period of time.
Send a wellness tip or handout with your monthly pay cheque stubs or company newsletter.
Post copies of a healthy recipe of the month on your lunchroom bulletin board.
Build a wellness library in the building or on your website, with resources to support learning.
Help your employees understand what is available to them through their company health benefit plan since many employees are unaware of all the services covered.
Hire a traveling massage therapist to provide on-site neck/shoulder massages to reduce tension.
Provide partial or full support for gym memberships.
Respect your employees' lunch hours by not hosting meetings so that they can ensure they have time to take care of their personal health.
Register in a corporate fitness challenge or walk/run event.
Provide healthy meal and snack options for catered meetings.
Stock the office fridge/kitchen/vending machine with healthy snacks and beverages.
Is now the time to be spending on wellness?
It is now more important than ever to support employee wellness given that many employees are dealing with more stress on account of greater job uncertainty or covering more tasks because of layoffs or salary cuts.
An engineering firm recently hired me and my business partners to do its first ever wellness program after cutting one-quarter of its staff and reducing salaries in response to the recession. The firm's financial and human resources teams determined that allocating finances toward wellness was more important than spending on training or sales at a time when employees are adjusting to many changes. They knew supporting their core team with fitness, nutrition and stress management was important to retain productivity and morale. They also knew that they had a great corporate culture they wanted to keep so that once the recession subsided, they would continue to attract the best people for the job.
Empowering employees to take charge of their health by offering corporate wellness seminars and other initiatives will clearly help companies save costs and remain productive.
Click here for a printer-friendly PDF of this article
Andrea Holwegner, known as the Chocoholic Dietitian, is founder and president of Health Stand Nutrition Consulting Inc., a member of the Canadian Association of Professional Speakers and a media expert for the Dietitians of Canada.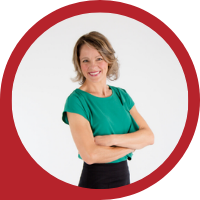 About Andrea Holwegner
CEO, Registered Dietitian, Counseling Practice Director & Professional Speaker
Andrea the «Chocoholic Nutritionist» is founder and CEO of Health Stand Nutrition Consulting Inc. since 2000. She is an online nutrition course creator, professional speaker and regular guest in the media. Andrea is the recipient of an award by the Dietitians of Canada: The Speaking of Food & Healthy Living Award for Excellence in Consumer Education....Read more