Good News for Chocolate Lovers??!!??
By Andrea Holwegner, Health Stand Nutrition Consulting Inc.
You may have heard that chocolate is good for you, but you have probably also heard that it is a food you should cut back on. Read on to find out more about the truth behind one of our favourite treats!
Chocolate benefits:
Cocoa powder and chocolate are derived from beans that contain phytochemicals called flavonoids. There are many research studies that show that populations that choose rich quantities of flavonoids such as red wine, tea, and fruits and vegetables) have reduced risk of heart disease and stroke. The main type of flavonoid found in chocolate is called procyanidins which shows promise for heart health benefits. The flavonoids in chocolate are antioxidants (protects the body's tissue from damage). Flavonoids also decrease the stickiness of the blood and therefore prevent blood from clotting. There is also a relaxation of blood vessel walls when flavonoids are consumed (this is an important measure of heart health).
What type is best?
The best chocolate for heart health would be a dark chocolate with 70% cocoa or higher since the cocoa contains the flavonoids. A good rule of thumb is that if cocoa beans (or one of the derivates such as cocoa solids or chocolate liquor) is listed as the first ingredient on the label you estimate the bar contains at least 70% cocoa. If sugar is listed on the label first then you can likely estimate that the bar contains less than 50% cocoa. One other important thing to check on your label is that cocoa butter is the main fat source. Much of the saturated fat found in cocoa butter is made from stearic acid which does not raise cholesterol as much as other saturated fats. If trans fat (hydrogenated oils or shortening) or other milk fats appear in the ingredients the heart health potential of your chocolate bar is declining since these fats can raise your blood cholesterol.
One Final Note:
As with all foods, moderation and portion sizes are important. Calories can be high in chocolate so a small piece is all you want. Dark chocolate has the benefit that usually people don't overeat large quantities since it has so much flavour. Enjoy!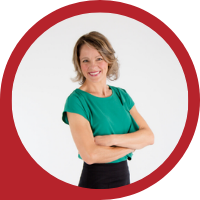 About Andrea Holwegner
CEO, Registered Dietitian, Counseling Practice Director & Professional Speaker
Andrea the «Chocoholic Nutritionist» is founder and CEO of Health Stand Nutrition Consulting Inc. since 2000. She is an online nutrition course creator, professional speaker and regular guest in the media. Andrea is the recipient of an award by the Dietitians of Canada: The Speaking of Food & Healthy Living Award for Excellence in Consumer Education....Read more