Grilled Chickpeas with Kale and Red Peppers Recipe
Speedy Vegetarian Grilling Recipe

Makes 4 meal-sized portions
This is a wonderful vegetarian meal for the BBQ. It is great for a speedy weekday supper meal and also works as a great leftover for lunch, or prepare it at home, and pack it to make while camping! This meal is not only loaded with flavour but also nutrition since it is high in vitamin C, iron, calcium, protein and fibre.
What you need:
2 cans (19 oz or 540ml each can) chickpeas (garbanzo beans) drained and rinsed
4 cloves garlic, minced
1 large sweet onion, chopped into long slices
4 tbsp olive oil
2 red peppers, chopped into long slices
6 cups kale, chopped into bite-sized pieces
Salt and pepper to taste
How you prepare:
1. Heat BBQ and prepare a greased BBQ basket or pan.
2. Meanwhile, mix together chickpeas, garlic, onion, red peppers and olive oil in a bowl and add to BBQ basket and place on the grill. Stir regularly until chickpeas are slightly browned, onions and red peppers are softened and grilled.
3. When almost ready to serve add kale and stir constantly until the kale is slightly wilted. Serve immediately either on its own, or with garlic toast, pita bread or over rice.
Per serving:
520 calories
17 g fat
18 g protein
78 g carbohydrate
16 g fibre
Looking for more simple meal planning tips and healthy recipes for a healthier lifestyle?  Sign up for our weekly newsletter for a healthy recipe of the week (and nutrition articles and videos with a balanced living philosophy to help encourage healthy habits but still save room for your favorites). Our nutrition newsletter is written by the Calgary Nutritionists on our team who each hold a professional Registered Dietitian license to ensure you are getting credible advice.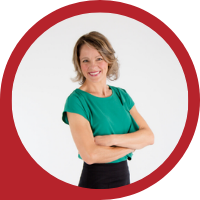 About Andrea Holwegner
CEO, Registered Dietitian, Counseling Practice Director & Professional Speaker
Andrea the «Chocoholic Nutritionist» is founder and CEO of Health Stand Nutrition Consulting Inc. since 2000. She is an online nutrition course creator, professional speaker and regular guest in the media. Andrea is the recipient of an award by the Dietitians of Canada: The Speaking of Food & Healthy Living Award for Excellence in Consumer Education....Read more