Cowboy Grilled Corn on the Cob Recipe
Barbecue Summer Recipe for Corn on the Cob
This recipe is great for the barbeque or an open campfire next time you are camping!
Makes 4 corn cobs
What you need:
4 Fresh corn cobs
2 Tbsp softened butter
2 tsp chili powder
1 tsp ground cumin
1 tsp garlic salt (or garlic powder)
1 Tbsp minced fresh parsley or cilantro
How you prepare:
1. Pull corn husks back carefully and remove silk. Soak corn cobs in a bowl of water for 20 minutes and drain on paper towel.
2. While corn is soaking, combine butter with chili, cumin and garlic salt/powder in a small bowl.
3. Dry corn cobs with a paper towel and spread 1/4 Tbsp of the butter mixture on each cob with hands or pastry brush.
4. Smooth husks back into place and place cobs on a hot grill for 20 minutes, turning occasionally. For a campfire, wrap each corn cob in tin foil and place cobs in coals around the fire, rotating frequently.
5. Once cooked, carefully pull husks back and spread each cob with remaining ¼ Tbsp of the butter mixture. Sprinkle with parsley or cilantro for garnish.
Per serving:
Calories: 138
Carbohydrates: 21g
Protein: 3g
Fat: 7g
Fibre: 3g
Looking for more simple meal planning tips and healthy recipes for a healthier lifestyle?  Sign up for our weekly newsletter for a healthy recipe of the week (and nutrition articles and videos with a balanced living philosophy to help encourage healthy habits but still save room for your favorites). Our nutrition newsletter is written by the Calgary Nutritionists on our team who each hold a professional Registered Dietitian license to ensure you are getting credible advice.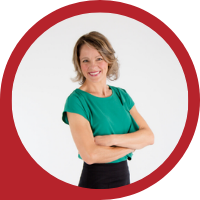 About Andrea Holwegner
CEO, Registered Dietitian, Counseling Practice Director & Professional Speaker
Andrea the «Chocolate Loving Nutritionist» is founder and CEO of Health Stand Nutrition Consulting Inc. since 2000. She is an online nutrition course creator, professional speaker and regular guest in the media. Andrea is the recipient of an award by the Dietitians of Canada: The Speaking of Food & Healthy Living Award for Excellence in Consumer Education....Read more