Grilled Italian Sausage & Red Peppers
Recipe adapted from author Anne Lindsay in her book Anne Lindsay's New Light Cooking.   This is a speedy weekday supper meal that is full of fibre and lots of flavour.
Makes 6 servings
What you need:
12 oz. Lean hot Italian sausage
2 large sweet red/yellow/orange peppers
1 tbsp. olive oil
1 cup chopped onion
6 oz. Dry Whole wheat penne or other pasta
4 large cloves garlic, finely chopped
4 large tomatoes, chopped
½ cup chopped fresh basil (or 1 tsp dried basil)
½ cup chopped fresh cilantro (optional)
½ tsp each salt and pepper
How you prepare:
1. Quarter and seed peppers. Place peppers on a greased grill over medium heat; close lid and cook for
5 minutes. Move peppers to upper rack if possible. Place sausages on grill; close lid and cook for 20 minutes or until sausages are no longer pink in centre, turning peppers and sausages after 10minutes.
Slice sausages; cut peppers into chunks.
2. Meanwhile, in large skillet, heat oil over medium heat; cook onion for until tender, stirring occasionally.
3. Meanwhile, in large pot of boiling water, cook pasta until tender but firm; drain well.
4. Add garlic to onion; increase heat to high. Add tomatoes; cook, stirring occasionally for about 2 minutes or until heated through. Add basil, cilantro, red peppers, sausage, pasta, salt, and pepper; toss to mix.
Make ahead: Through step 2, cover and refrigerate for up to 4 hours.
Per serving:
Calories 376
Carbohydrates 37 g
Protein 20 g
Fat 18 g
Dietary Fiber 9 g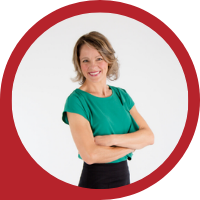 About Andrea Holwegner
CEO, Registered Dietitian, Counseling Practice Director & Professional Speaker
Andrea the «Chocolate Loving Nutritionist» is founder and CEO of Health Stand Nutrition Consulting Inc. since 2000. She is an online nutrition course creator, professional speaker and regular guest in the media. Andrea is the recipient of an award by the Dietitians of Canada: The Speaking of Food & Healthy Living Award for Excellence in Consumer Education....Read more