Happiness & Health: What would you eat if there were no rules?
Read my comments in an interview for the Calgary Herald about what I know about the healthiest and happiest people we see at our practice. Deprivation leads to over-consumption and focusing on how you eat as much as what you eat is the key to success.
Make it easy, make it fun
Focusing on health and happiness with the Calgary Herald Health Club
By Yvonne Jeffery, Calgary Herald January 24, 2013
Build a fort out of pillows.
Nope, that's not our advice for shutting out a cold, hard world. It's one of the healthy living suggestions from Tanya Labrecque, healthy active living manager at Calgary's Cardel Place, a not-for-profit and recreation centre with a mission to raise healthier generations (see more at letsraisethebar.ca).
"Healthy living means being active every day, having fun, eating well and enjoying life," Labrecque says. "It really is about just getting moving, getting started and starting at home."
Especially if you involve the entire family – and it can start with something as simple as building that fort, taking the dog for a walk instead of sending it to the backyard, walking around the arena with one child while another child plays hockey, or doing 10 push-ups during the TV commercials.
"There's a big difference between the mindset of going for a workout and simply getting moving," she says. "Especially for new exercisers, it can be overwhelming to go for a workout, but to get moving and get active is more manageable."
But there's a secret to being successful.
"Whether you're a family or an individual, you have to set yourself up for success and not failure . . . it's not about starting a healthy eating plan and exercising five days a week and going to sleep eight hours a day and doing all of these major life changes all at once," Labrecque says.
"It's about just doing more than you did the week before, the day before. Start with really, really small steps and go from there."
Her colleague Brenda Cromer offers one way to get started.
"It starts with less screen time, whatever screen that is," says the personal training and group fitness co-ordinator at Cardel Place. "If you sit at a desk all day and you go home and sit down and you relax in front of the TV, it's exactly the same thing. It's about exchanging sedentary relaxation with active living."
She suggests making a family plan that's specific, realistic, time sensitive and measurable. Track your usual habits for a week, to create a baseline, and then set an allotment of screen time for the week. Track it, along with the amount of time that's spent being active – including everything from walking to household chores to playing in the yard to dancing in the family room to parking further from the mall so it's a longer walk to the stores.
Most important? 
"Have a fun reward," Cromer says, like going out for pizza and bowling on a Saturday night. "Kids get really excited about that kind of stuff . . . One of the benefits of spending time with the family being active is that kids get better face time with their parents and it improves the kids' self esteem – they feel like they're valuable."
Generally speaking, she says, you're aiming for an hour of activity a day, but it doesn't have to be all at once.
"It can be 10 minutes at a time," she says. "We're not talking about exercises, we're talking activity . . . when you change so small, it sticks."
The same can be said for healthy eating, says Calgary dietitian Andrea Holwegner, owner of Health Stand Nutrition.
"I'd much rather see people make one solid change and sustain it," she says.
Her start point might surprise you, however, because she wants you to think about what you would choose if you could eat anything, if there were no "rules."
"The healthiest and happiest eaters we see here are the people who have full permission and no guilt associated with eating," says Holwegner, also known as the Chocoholic Nutritionist. "If you start a meal with always eating what you love, and taking some time to actually taste it and savour it, food becomes more satisfying. And if you're struggling with your weight, you'll eat less.
"Deprivation always leads to overconsumption . . . if it's not soulful and pleasurable, it will never be satisfying."
Holwegner adds that how you eat is as important as what you eat.
"When you eat, only eat," she says. "Eating doesn't take that long, yet we multi-task it and it's never going to be satisfying when it's multi-tasked."
Paying attention to eating also helps you recognize your body's cues that you're no longer hungry, which can also help you eat less.
As for the after-school and after-work scramble to get to extra activities, she's concerned that the family dinner hour is being sacrificed. Research shows that eating dinner as a family is about more than just healthier nutrition and eating habits, it's about family connectedness.
"Everything has a consequence and the fallout with the pace of extracurricular things is that food gets cut . . . when we look at health and happiness, what are we doing to set up our kids not to live the same crazy pace we do?" she asks.
To improve your own healthy eating habits, she suggests keeping a food journal for a week. "Eat as usual and just sit back and look at what you're doing."
You'll likely see one or two things you could change, such as drinking more water or adding a serving of fruit or veggies per day. Pick just one, and work on it until it becomes a habit. Then move on to the next change.
"Even if you're busy, if you just have one thing to do for your health that day, it's doable," Holwegner says.
"There's a certain level of empowerment with that."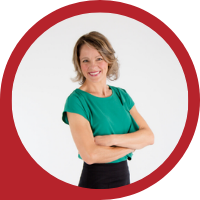 About Andrea Holwegner
CEO, Registered Dietitian, Counseling Practice Director & Professional Speaker
Andrea the «Chocolate Loving Nutritionist» is founder and CEO of Health Stand Nutrition Consulting Inc. since 2000. She is an online nutrition course creator, professional speaker and regular guest in the media. Andrea is the recipient of an award by the Dietitians of Canada: The Speaking of Food & Healthy Living Award for Excellence in Consumer Education....Read more