Have a healthy holiday season but save room for dessert
By Andrea Holwegner BSc, RD  "The Chocoholic Dietitian"
Imagine attending a holiday party and, just after a new acquaintance enjoys a plateful of shortbread cookies, they ask you about your job. You can imagine the look you get when you tell them you're a dietitian.
It's easy to see me as the party pooper while my husband, who imports wine, is seen as the party maker. Good thing my business card lists my title as "the chocoholic dietitian" to prove I still have some fun.
You can achieve health without guilt. As you head into the month of December, here are some things to help keep your health on track while you enjoy eggnog, shortbread and other festive treats:
Add & subtract
There are opportunities to indulge in holiday treats just about everywhere, but this isn't necessarily the challenge. The bigger issue is failing to adjust your typical eating pattern to accommodate the seasonal influx of foods or reduced physical activity so common this time of year.
Choose lighter meals and snacks on days you will be indulging at a holiday party. Since the holidays rarely influence breakfast, take extra care to start the day off right. Try a bowl of oatmeal with fruit and yogurt or whole grain toast with eggs and a piece of fruit. Skip greasy fast food combo meals, choose healthy lunches and don't stock your cupboard with high-calorie snack foods you can be tempted to overeat.
Determine the absolute favourites you can't live without. Even though chocolate is often my top choice, at this time of year I opt for less chocolate in favour of more cocktails and my mom's holiday gingerbread and sugar cookies.
Account for liquid calories
Be conscious of the empty calories you are consuming with alcohol. Having a cup of eggnog — at over three hundred calories alone — in addition to several cocktails can give you more calories than an entire meal (except it may not feel like you have ingested anything at all if you're not chewing).
Have a low-calorie beverage such as sparkling water in between each calorie-dense or alcoholic drink. This will help you keep hydrated and also slow down how much you are eating, since alcohol stimulates your appetite.
Warm foods = comfort foods
Shorter days of sunlight, colder temperatures and the busy pace of the holiday season can make you susceptible to overeating. At vulnerable times of the day (often late afternoon or evening), try something warm, such as a soothing mug of hot cocoa made with milk, flavoured steamed milk, tea, latte or mulled apple/cranberry cider.
If you're looking for something savoury, try a bowl of reduced-sodium chicken noodle soup.
At this time of the year, raw veggies and salads may not be as satisfying as a hearty mixed vegetable or roasted red pepper soup. Also consider that the holidays are an emotional time and you might not be hungry at all. What's eating you? Try comforting yourself with a warm bath or hot shower.
Sustain & maintain
If you are trying to lose weight or have made some substantial lifestyle changes recently and have a busy December ahead, consider making a goal to sustain the changes you have already initiated and maintain your current weight.
For the month of December, be intentional in your food choices. The single most important accountability tool is a food journal.
If you're not a fan of journalling, try this speedy method: print off a copy of a calendar for December and divide each day into boxes to represent three meals and up to three snacks.
Each day, place a checkmark beside a meal or snack if it was relatively healthy and an X beside a meal or snack that was not so healthy or full of festive treats. Also add Xs for specific meals you already know in advance are going to be full of indulgences.
This visual system can help you balance your health and still enjoy the best of the season.
Butternut squash & apple soup
1 can (14 oz/398 mL) evaporated milk
3 lb (1.5 kg) butternut squash
3 garlic cloves
2 medium apples
8 cups (2 L) chicken or vegetable stock
salt, pepper, nutmeg and cayenne pepper to taste
fresh thyme or savory (optional)
Preheat oven to 350°F (180°C). Cut squash in half and scoop out seeds. Brush the cut side of the squash with olive oil and place cut-side down on baking sheet. Without removing skin, cut the hard end of the garlic off and place the exposed end on the baking sheet next to the squash. Peel and core the apples and add to the baking sheet.
Bake in oven for 45 to 50 minutes or until the squash is tender.
Scoop out the squash and squeeze out the garlic. Transfer squash, garlic, apples and milk to a food processor or blender and puree.
Transfer puree to medium saucepan. Add enough stock to give soup the desired consistency. Add salt, pepper, and nutmeg to taste. Heat soup gently over medium heat. Serve topped with chopped fresh thyme or savory if desired.
Makes 6 servings.
Per serving: calories, 222; carbohydrates, 46g; protein, 9g; fat, 2g; fibre: 5g.
www.healthstandnutrition.com
Andrea Holwegner owns Health Stand Nutrition Consulting Inc. Visit www.healthstandnutrition.com  or phone 403-262-3466 for nutrition counselling, speaking engagements and to subscribe to her free monthly ezine. Twitter:@chocoholicRD.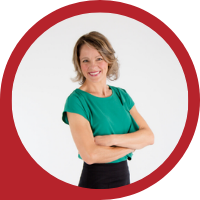 About Andrea Holwegner
CEO, Registered Dietitian, Counseling Practice Director & Professional Speaker
Andrea the «Chocolate Loving Nutritionist» is founder and CEO of Health Stand Nutrition Consulting Inc. since 2000. She is an online nutrition course creator, professional speaker and regular guest in the media. Andrea is the recipient of an award by the Dietitians of Canada: The Speaking of Food & Healthy Living Award for Excellence in Consumer Education....Read more