Health for time-strapped moms. Replacing 'never enough' with 'good enough'
By Andrea Holwegner, For The Calgary Herald   October 6, 2011
I wanted it all: a rewarding career, a great husband and to be an exceptional mom. I'm learning that juggling these roles and still finding time for myself is the hardest thing I have ever done.
Being truly connected when I am with my son Saul and not worrying about work is harder than it seems. Similarly, being fully present at work and not feeling guilty about missing out on time with Saul is a dance I am still trying to learn.
The book Good Enough is the New Perfect; Finding Happiness and Success in Modern Motherhood, by Becky Beaupre Gillespie and Hollee Schwartz Temple (Harlequin Enterprises Limited, 2011, $19.95), is proving very helpful.
What I love about this book is that it is not about settling or getting everything you sort-of-kind-of want. I am starting to understand that you can do anything, but this doesn't mean you have to do everything.
Many of the reflections in this book are also parallel principles when it comes to taking care of your personal wellness and family nutrition.
One size rarely fits all
There are many ways to be a good mom and take care of your own personal wellness and family nutrition.
One working mom I know belongs to a cooking group that prepares dozens of freezer meals once per month. Another mom uses many healthier convenience options such as pre-chopped raw veggies and pre-cooked roasted chicken.
If you end up throwing out rotten produce this week because life happened, start again fresh next week with the wellintended veggies you had hoped to prepare for your family.
Stop judging yourself and other women. There is a difference between being the best and doing your best.
Busy? Prioritize
Some of the busiest people I know are also some of the most successful with both their careers and health. These individuals have learned to say no more often and refuse to make choices based on guilt or fear.
I learned the hard way that all choices (even the good ones) also have consequences. By slowing down and simply asking myself what are the consequences of saying yes to whatever opportunity comes my way, I am learning to protect my time for what really matters.
If your family's nutrition seems overwhelming and you don't know what to prioritize, begin by making sure you are home to eat at least one meal per day with your kids. Supper is ideal, but if this isn't possible for your family, begin with breakfast. Research strongly shows that families that eat together are more connected, eat healthier and are less likely to have overweight children or struggle with unhealthy body image.
Who knew that simply planning supper together could set the stage for such profound family health?
Don't confuse hard with valuable
Overachievers like me need to be constantly reminded that not everything needs to involve hard work. In fact some of the easiest, most obvious things don't involve much work at all.
Here are five speedy supper meals that rely on some pre-prepared ingredients but still provide you and your family with excellent nutrition:
1.  Homemade pizza using a prepared pizza shell, canned tomato sauce and toppings such as ham, canned pineapple, red/ green peppers, fresh tomatoes and pre-grated cheese. Serve with raw carrots and dip.
2.  Grilled chicken caesar salad using precooked grilled chicken breast or prepared roasted chicken, pre-washed salad, croutons and light caesar salad dressing. Serve with whole wheat garlic toast.
3.  Tuna melts on whole grain buns with canned tuna mixed with light mayonnaise topped with grated cheddar cheese and baked in the oven until warm. Serve with a salad.
4. Stir-fry using frozen peeled and de-veined shrimp (or alternatively firm tofu or pre-sliced beef, pork or chicken stir-fry strips) and your favourite stir-fry sauce. Also add a bag(s) of pre-chopped fresh or frozen Asian vegetables and serve with noodles or rice.
5. Precook ground meat (ground beef/turkey/ chicken/bison/pork) in bulk and freeze in convenient family-ready packs to add to tomato sauce with extra sliced veggies for a fast pasta meal. Alternatively, season precooked meat for taco night with peppers, onions, lettuce, salsa and sour cream as toppings.
Good advice
Next time you are feeling overwhelmed and out of balance, you may find the advice my friend Colleen had to be helpful: just because it feels gross doesn't mean you are grossly inadequate.
Accept that balance means that each day some things will be in check, others will be anything but.
The bigger learning is to acknowledge your work, family and personal self all need to be taken care of – but just not every minute of each day.
Andrea Holwegner is the chocoholic dietitian and owner of Health Stand Nutrition Consulting Inc. Visit www.healthstandnutrition.com or phone 403-262-3466  to subscribe to her free monthly ezine. twitter: @chocoholicRD
Read more: http://tinyurl.com/6ena7ah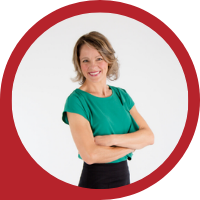 About Andrea Holwegner
CEO, Registered Dietitian, Counseling Practice Director & Professional Speaker
Andrea the «Chocolate Loving Nutritionist» is founder and CEO of Health Stand Nutrition Consulting Inc. since 2000. She is an online nutrition course creator, professional speaker and regular guest in the media. Andrea is the recipient of an award by the Dietitians of Canada: The Speaking of Food & Healthy Living Award for Excellence in Consumer Education....Read more