Healthy Meal Planning for Busy Families
3 Simple Steps for Successful Meal Planning
The recipe included below for Italian Zucchini Boats in this blog post is sponsored by my client Armstrong Cheese
What are the 3 simple steps for successful meal planning?
Step 1: Book it!
Book a date with the grocery store. Pick one day a week and schedule an appointment to grocery shop.
Your grocery date should be considered equally as important as a family member's birthday.
No time to shop? Consider grocery delivery service, now offered by many local stores.
Step 2: Map it!
Determine if you will use a calendar, journal or computer template to determine where your weekly supper meal plan will live.
Decide if you will plan 1, 3 or 7 days at a time. Important! You don't have to plan all 7 days in advance – for most people this is difficult so ditch the guilt and go with one day at a time.
Before adding any meal ideas be sure you have first noted your activities and commitments (hobbies, sports, meeting and events) so that the meal ideas you are coming up with make sense for the time you have this week.
Step 3: Save it!
Create a re-usable grocery list of staple and fresh foods.
Design your list so that it can be easily navigated in your usual grocery store.
If you are tech-savvy, download a grocery list app.
Compile all your meal plans and favourite recipes in a binder, computer folder or app.
What should I do if I have failed to follow the 3 steps for successful meal planning?
We all have really busy weeks where our best intentions for planning healthy meals just doesn't work out. In this case or if you find that this three-step meal planning system is not a good fit for you and seems overwhelming, do not worry!
Start small. Any amount of planning will help.
Before going to bed ask yourself the single most important question for success: "What is for supper tomorrow?"
Look at your available options in your pantry, fridge and freezer and simply select the 3 components of a balanced meal (grain/starch, vegetables and a source of protein).
Your meal planning doesn't have to be fancy. Give yourself a break – having pancakes, Greek yogurt and frozen veggies may not be gourmet but it meets the criteria for a balanced meal.
Let the vegetable drive dinner. To avoid food waste instead of looking in your freezer or pantry, start by what fresh foods need to be used up first and form your meal around those items.


AND if you have forgotten to answer the most important question the night before, think about this on your drive to work, at lunch or while waiting to pick up your kids from school. ANY amount of planning instead of hoping for the best at supper when you are hangry and tired is helpful.
WATCH the TV Interview:

What is one family meal idea that adds extra veggies and could work for both vegetarians and meat eaters?
Italian Zucchini Boats! This recipe is by my client Armstrong cheese – they've been making cheese since 1902. As a Canadian cheesemaker strong on heritage, their cheese has stood the test of time for family meal planning. Give this recipe a try!
Italian Zucchini Boats Recipe
Family recipe that works for both vegetarians AND meat eaters
This tasty comfort food recipe may look complicated but it is prepared in a jiffy. Think zucchini, tomatoes, grated cheddar cheese, dried oregano and thyme. I'd recommend the flavor profile of Armstrong grated Garlic and Herb Cheddar Cheese, but any Armstrong cheddar cheese would be great. This is a complete dish that you can make with Italian sausage or instead with white cannellini beans for a vegetarian or meatless Monday option.
Recipe source: www.armstrongcheese.ca
Ingredients:
4 medium-sized zucchini, stem cut off, halved lengthwise
2 fresh links spicy Italian sausage* (optional)
5 mL (1 tsp) of olive oil
60 mL (1/4 cup) of minced onion
60 mL (1/4 cup) of diced carrot
60 mL (1/4 cup) of diced celery
2 mL (1/2 tsp) of dried oregano
2 mL (1/2 tsp) of dried thyme
150 mL (1 cup) of cooked or canned drained white (cannellini) beans* (if you are not adding the sausage instead use 450 ml (3 cups) of beans).
1 plum tomato, seeded and diced
180 mL (3/4 cup) of Armstrong Cheddar Cheese (Garlic & Herb or Regular Cheddar), grated
Salt and pepper
Directions:
Preheat the oven to 200°F (400°C). Line a baking sheet with parchment paper.
Using a small spoon, scoop out the pulp from the zucchini halves. Roughly chop the pulp and transfer to a mixing bowl. Place the zucchini, cut side up, on the prepared baking sheet.
Remove the sausage meat from the casings. Heat the olive oil in a medium skillet set over medium heat. Add the sausage meat, onion, carrot, celery, oregano, and thyme. Cook, breaking the sausage with a wooden spoon, until the meat is fully cooked, about 6 minutes. Transfer the sausage mixture to the mixing bowl. Add the cannellini beans and the diced tomato. Stir to combine, then mix in 125 mL (1/2 cup) of the grated Armstrong Cheddar Cheese.
Season the zucchini halves with salt and pepper, then spoon in the sausage filling. Sprinkle with the remaining cheese. Bake for 15 minutes, or until the cheese is golden and the zucchini is tender.
*To make this recipe vegetarian or enjoy as a Meatless Monday meal, simply skip the sausage and triple the amount of white cannellini beans.
WATCH the additional Facebook Live Video for more tips:
As Registered Dietitians that specialize in meal planning, weight concerns, emotional eating, eating disorders, digestive health, heart health, diabetes, pediatric nutrition and sports nutrition we can see you in our local Calgary nutritionist office or as an Online Dietitian by phone or video conferencing for virtual nutrition counseling. Find out more about our Dietitian Nutrition Counseling Programs here.
As university trained Registered Dietitians, you can count on us for credible advice and practical meal planning so you don't have to stress about food anymore. You can achieve a healthy and joyous relationship with food and your body. Let's talk about what this can look like for you. CONTACT US.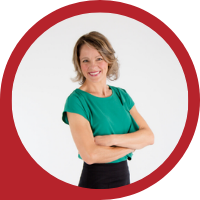 About Andrea Holwegner
CEO, Registered Dietitian, Counseling Practice Director & Professional Speaker
Andrea the «Chocoholic Nutritionist» is founder and CEO of Health Stand Nutrition Consulting Inc. since 2000. She is an online nutrition course creator, professional speaker and regular guest in the media. Andrea is the recipient of an award by the Dietitians of Canada: The Speaking of Food & Healthy Living Award for Excellence in Consumer Education....Read more