Healthy Snacking for Kids
Need some new healthy ideas for snack attacks for your munchkins? The biggest way you can ensure your child becomes a healthy eater is to role model healthy snacking habits yourself. There is no need to be a perfect eater since all foods (even cupcakes and potato chips) can certainly fit. Your role as a parent is to teach your kids about "grow foods" or the highly nutritious foods to boost their health. Your kids also need guidance on how to manage "fun foods" we eat for social reasons and simply because they taste good. The key is to offer your kids a wide variety of foods to get used to different textures and flavours. Try to remember that acceptance of new foods can take time. Picky eaters may need to try something fifteen times before they will accept a new food. Here is a list of healthy snack ideas that are not only good for your kids but also healthy for you too.
Whole-wheat pita bread and hummus with celery sticks.
Multigrain crackers with cream cheese topped with cucumbers or red peppers.
Smoothie made with yogurt, frozen berries, banana and unsweetened juice or milk.
Dry ready-to-eat breakfast cereal mixed with dried fruit (such as raisins, dried cranberries, dates, figs, prunes and dried apricots) as well as mixed shelled nuts or seeds (such as peanuts, almonds, cashews, pumpkin seeds or sunflower seeds). Other popular additions include pretzels, popcorn, crackers and chocolate chips.
Chocolate milk and a banana (or toss these in the blender with ice for a smoothie).
Taco chips with bean dip (layer canned refried beans, avocado, salsa and top with grated cheddar cheese
Oatmeal date squares and a glass of milk.
Raw veggies such as grape/cherry tomatoes, carrots, celery, broccoli, cauliflower, snow/snap peas with creamy dip.
Mug of hot chocolate made with milk and oatmeal cookies.
Apple or rhubarb crisp with frozen yogurt.
Rice Krispie squares made with part bran cereal and raisins.
Bran muffin and cheddar cheese with grapes.
Greek salad.
Yogurt parfait with yogurt, berries (or alternatively try fresh or canned unsweetened pineapple or peaches) and granola.
Whole wheat crackers with cheddar or other cheese.
Mini boccocini (fresh mozzarella cheese) and grape/cherry tomatoes on toothpicks.
Taco chips with salsa
Spread peanut butter or other nut butter on a banana and roll in crushed breakfast cereal.
Fresh fruit kabob with yogurt dip.
Oatmeal or ready-to-eat breakfast cereal and milk.
Grated carrots and raisins with sweet vinaigrette.
Homemade chips (cut up whole wheat pita or tortillas into triangles with scissors, spay or brush with oil and top with a sprinkle of salt and bake until crispy).
Unsweetened applesauce cup and whole wheat crackers with tzatziki dip.
Frozen grapes and cubes of cheese.
Cold leftover pancakes or French toast with jam.
Cottage cheese with sliced apples or pears with a sprinkle of cinnamon.
Hard boiled egg and whole wheat crackers.
Freeze leftover smoothies into Popsicle cups for healthy homemade frozen Popsicles.
Yogurt tubes frozen and frozen grapes.
Dessert flavored tofu with sliced strawberries or other berries.
Warm vanilla milk (mug of milk with vanilla and a pinch of brown sugar) and chocolate chip oatmeal cookies.
Banana bread, banana muffins or carrot muffins served with yogurt.
Mini pizzas made with mini whole wheat bagels or pita bread and tomato sauce, meat, veggies and cheese.
Homemade air-popped popcorn with butter or non-hydrogenated margarine.
Mix almond butter or peanut butter with water to make a runny dip for pretzels, celery sticks, banana or apple slices.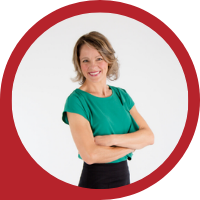 About Andrea Holwegner
CEO, Registered Dietitian, Counseling Practice Director & Professional Speaker
Andrea the «Chocolate Loving Nutritionist» is founder and CEO of Health Stand Nutrition Consulting Inc. since 2000. She is an online nutrition course creator, professional speaker and regular guest in the media. Andrea is the recipient of an award by the Dietitians of Canada: The Speaking of Food & Healthy Living Award for Excellence in Consumer Education....Read more