5 Healthy Snacks at the Gas Station
Wondering what you can grab for a healthy snack at convenience stores?
Article prepared by Nutrition Student Sophie Laycock and reviewed by our Registered Dietitian team.
Traveling or being on the go while trying to eat healthy food can be difficult, so let us help you to make choices to steer you in the right direction if you are looking for a healthy snack at the gas station.
Gas stations or convenience stores are the land of ultra-processed snack food that we often end up buying when we are under pressure to pick up something on the go. Though these foods are absolutely fine to eat in moderation, it can be helpful to have a few healthy go-to's that you can quickly pick up when you're on the run.
Healthy Snacks at the Gas Station:
1. Fresh & Dried Fruit
This may be an obvious one, but lots of gas stations will actually have whole fruit, like apples or bananas. This is a quick snack to provide you with some energy and fibre if you're on the run. These are sometimes sold as whole fruits, in the fridge area in plastic containers, or as dried fruit. Make sure that the dried fruit you get is 100% fruit with no added sugars!
2. Nuts, Seeds & Trail Mix
Nuts and seeds are a great source of healthy fats, protein, and dietary fibre to keep you satisfied. Most gas stations will have pre-portioned packages of almonds, peanuts, or mixed nuts. A trail mix with nuts and dried fruit is also a great option for an easy, healthy snack.
3. Protein and Granola Bars
It can be tough to navigate the various options of granola bars available when you're at the gas station. My favourite go-to's are Lara Bars, GoMacro Bars, Madegood bars, or Strong & KIND bars. If you're not sure, take a look at the ingredient list and look out for added sugar or unfamiliar ingredients.
4. Cheese, Yogurt and Hard-Cooked Eggs
In the refrigerated area, you are likely to find these high protein snacks to pick up. These foods often come pre-portioned, will keep you satiated, and are also great for kids.
5. Water, Sparkling Water, Tea, and Kombucha
It's always important to hydrate when you are on the go, and water isn't the only option! There is a huge selection of beverages in any store, and many will even have hot teas and coffee. Kombucha is a great carbonated option that is low in sugar and is a refreshing substitute for tea.
Bonus tip:
If in doubt, read the ingredients! A good rule of thumb when you are looking for a healthy snack at the gas station is that if you know what the ingredients are and the list is short and familiar, then this is often a good sign.
Do you have a favorite healthy snack at the gas station? Let us know in the comments below!
What about chips, chocolate and other goodies?
When it comes to eating on the go remember you don't have to eat perfectly. Registered Dietitian and CEO Andrea Holwegner from our practice lives by the following philosophy or mantra:
"When on your own eat your best, for social fun have the rest."
It is more difficult (and certainly less fun) to make really healthy choices with your family on Friday pizza night, when going out for lunch with coworkers or for date night with your sweetie.
When you are on your own go for the nerdy nutritious choices. This means for your everyday workday breakfast, mid-afternoon snack on-the-go, eat your best. When you are eating socially, have some fun, be flexible, and go with the flow. This is the time to enjoy soulful foods like chips and chocolate chosen exclusively for taste and enjoyment.
You can eat anything, just not everything – it is about being intentional about your choices.
Need more support for eating well on the go?
Book some nutrition counseling with our Registered Dietitian in Calgary or Online Nutritionist team.  Find out more about our personal nutrition programs here.
Read our previous article "How can I eat healthy when eating out?"
Read our previous article "Travel for work? How to eat well on the road and at the airport"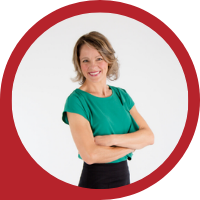 About Andrea Holwegner
CEO, Registered Dietitian, Counseling Practice Director & Professional Speaker
Andrea the «Chocolate Loving Nutritionist» is founder and CEO of Health Stand Nutrition Consulting Inc. since 2000. She is an online nutrition course creator, professional speaker and regular guest in the media. Andrea is the recipient of an award by the Dietitians of Canada: The Speaking of Food & Healthy Living Award for Excellence in Consumer Education....Read more