Help for moms with eating disorders
Help for moms with eating disorders
Anne was a devoted stay-at-home mother of two healthy, beautiful girls ages four and seven. For two decades, Anne had tried just about everything to lose weight. But, over the years, the liquid-shake programs, low-carb plans and starvation diets eventually manifested into bingeing and purging.
She hid her bulimia from family and friends, too depressed and ashamed to reach out for help.
Because she was still overweight, her feelings of shame were amplified.
Anne will never forget the day her seven-year-old daughter asked, "Mom, am I fat?"
As overweight parents and those with eating disorders will attest to, they want nothing more than for their children to be free of the pain and obsessions they have lived with. They want their children to grow and develop healthily and to have a better relationship with food and their bodies than they do.
Why then, despite a parent's instinct to protect their children from their pain, do children of parents with eating disorders often struggle with food and body image?
As Anne learned, you may think you are hiding your dieting habits or eating disorder from your children, but children learn what they live. Perhaps they are picking up subtle messages about how you classify food as good or bad, or how you eat diet foods while they are told to eat something else.
Maybe it is because they have watched you stuff or starve your-self to numb uncomfortable emotions. It may also be because you skip eating their birthday cake or sit on the side of the swimming pool fully clothed rather than participating. The little things are big things.
The good news is that it is never too late to get things on track and redefine healthy relationships with food, body image and your family.
Whether you have an eating disorder or are struggling with an unhealthy relationship with food or your weight, here are three important things you can do right now to improve your whole family's relationship with food, body image and health.
Prioritize family meals
Research is very clear that families who eat together have better nutrient intakes and are less likely to be overweight or develop eating disorders.
If you are overweight or struggling with bingeing or bulimia, eating alone is tempting but can be triggering. It is often the time when you may eat for comfort or sabotage. As Anne discovered, choosing only to eat when she was with others worked. Her kids helped her be accountable to model healthy eating habits and choose what her body needed for nourishment.
Eat enough
Anne was surprised to learn that her diet plan, which recommended eating less than 1,200 calories per day, was less than what her short four-year-old child needed. Depending on activity level, an average adult woman needs 1,800 to 2,400 calories per day. Are you trying to hit a calorie target more suited to your child?
Eat enough. If you are chronically depriving yourself of the essential food you need each day, your body interprets this as a sign that there is a famine and chooses to adjust hormones and your metabolic rate to conserve energy.
Simply eating enough and at regular three-to-four-hour intervals during the day helped Anne prevent some late afternoon bingeing and purging, and get control of her weight.
Slow and steady
Chances are you already beat yourself up enough. Remember that creating a healthier relation-ship with food and your body takes time, especially if you have been emotional eating and abusing your body for a long time.
If you hate the way you feel about food and your body, it can be tempting to work in isolation. The only way to feel better is to start talking about it with experts who know how to help.
Seek professional help from your family physician as well as a registered psychologist and registered dietitian who specialize in eating disorders and emotional eating. While moms often excel at giving support to those around them, even the caregivers need caregiving.
Dietitian Andrea Holwegner is the Chocoholic Nutritionist and owner of Health Stand Nutrition Consulting Inc. Visit healthstandnutrition.com or phone 403-262-3466.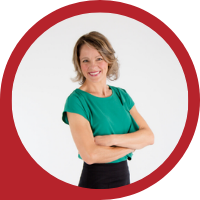 About Andrea Holwegner
CEO, Registered Dietitian, Counseling Practice Director & Professional Speaker
Andrea the «Chocoholic Nutritionist» is founder and CEO of Health Stand Nutrition Consulting Inc. since 2000. She is an online nutrition course creator, professional speaker and regular guest in the media. Andrea is the recipient of an award by the Dietitians of Canada: The Speaking of Food & Healthy Living Award for Excellence in Consumer Education....Read more