Herbal Hype – 3 common myths
Herbal Hype – 3 common myths
By Andrea Holwegner, Health Stand Nutrition Consulting Inc.
Many Canadians are taking more responsibility for their own health, and are therefore reaching for herbs and various natural health products. Read on to hear 3 common myths about herbs.
Myth #1: Herbs Are Not Drugs
Approximately 1/4 of prescription drugs have products derived from plant sources. Eg. morphine
Herbs can have drug like effects and should be treated with respect like prescription medication
Myth #2: Natural Means Safe
Herbs can be potentially toxic acutely (harmful in the short term). Eg. Ma Huang can cause heart complications and death after a single dose.
Herbs can be potentially toxic chronically (harmful over the long term). Eg. Prolonged use (>3 months) of Kava can result in vision disturbances, yellowing of the skin, problems with equilibrium, skin allergy, dizziness and stupor etc.
Myth #3: Herbs Cannot Harm – Only Cure
Many herbs are harmful and even toxic to the body such as tobacco, poison ivy, poison hemlock, and deadly nightshade
Some herbs can be beneficial in some circumstances and not
beneficial in others. Eg. Garlic can help keep the blood less sticky and less likely to clot and cause a heart attack or stroke. Garlic can also cause prolonged bleeding in surgery or trauma because the blood is thinned.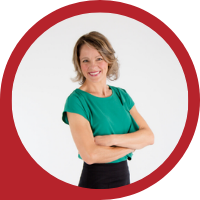 About Andrea Holwegner
CEO, Registered Dietitian, Counseling Practice Director & Professional Speaker
Andrea the «Chocoholic Nutritionist» is founder and CEO of Health Stand Nutrition Consulting Inc. since 2000. She is an online nutrition course creator, professional speaker and regular guest in the media. Andrea is the recipient of an award by the Dietitians of Canada: The Speaking of Food & Healthy Living Award for Excellence in Consumer Education....Read more