Holiday Party Survival Guide
How to Eat Well and Enjoy the Christmas Holiday Party Season
By Andrea Holwegner, Health Stand Nutrition Consulting Inc.
Let's face it: one of the most wonderful things about the holidays is all those parties, staff functions and family get-togethers that bring light to the dark months of winter. But as we look to the idea of gingerbread, chocolates and eggnog with anticipation, there may also be a feeling of frustration with how these events can impact our health and nutrition goals.
While we tend to feel that we are at the mercy of our guests or hosts when it comes to party foods, you do have some control! Read on for some quick and painless tips on surviving holiday parties – both for hosting and attending.
4 Tips to Eat Better when Attending Holiday Parties:
1. Don't Arrive Hungry
Getting to a party feeling satisfied rather than starving can make a huge difference in how much you eat and what foods you choose. When our blood sugars are low, it's natural to reach for foods that are quick sources of fat, sugar and calories. It's not a reflection of your willpower – it's biological! Take that pressure off of yourself by enjoying a quick bowl of cereal, a small sandwich, or some yogurt and fruit, as you get ready for the party.
2. Drink Water
Research shows that our craving for snacks is often a result of dehydration. At the same time, alcohol not only is a source of calories, but it also stimulates our appetites and dehydrates us further, making us want to snack more. Have a glass of water when you arrive, as well as between each "beverage", to keep yourself hydrated while minimizing intake of empty calories.
3. Eat Your Veggies First!
Mom was right.don't eat dessert before you've had supper! Allow yourself to enjoy your favorite treats at a party – whether it's those irresistibly crispy chips, that decadent cheese platter, or those darn chocolates that keep calling your name – just promise yourself to fill up on veggies first so that you'll eat less treats, while getting some good fibre and nutrition in that day.
Also, avoid having more than 60g of fibre per day since this can lead to dehydration and even some nutrient deficiencies.
4. Bring Something Nutritious
You can't complain that there's nothing healthy to eat at a party if you have not contributed yourself! Experiment with exotic salad recipes, try a low-fat cheese and whole grain cracker tray, or fall back on the classic fruit & veggie trays. There will always be someone else at the party who will appreciate this break from the decadence of the holidays!
4 Tips to Feed your Guests Better at your Party:
1. Focus on the Vegetables
It's safe to assume that most of us are low on our veggie intake during the holidays. Instead of hunting for grandma's Yule log recipe, or spending hours icing cakes and cookies, let guests bring the treats and focus your efforts on foods that are both delicious and nutritious. Surprise guests with stuffed peppers and mushrooms, mini veggie burgers, baked zucchini sticks, eggplant parmesan, bean salad or grilled veggie-kabobs.
2. Make Water Accessible
Water can help to not only decrease food intake, but also keep guests hydrated and less affected by their beverages! Provide ample ice water in pitchers, or offer cold bottles of water, in an area that is easily seen and accessed.
3. Minimize Portion Sizes
Studies have shown that the more food that is put in front of us the more we will eat, without really feeling a difference in fullness or satisfaction! At the same time, nobody gorges on food that there is only a small amount of since they want to be respectful to other guests. While you will want to keep an ample stock of squares, chips and other treats on hand, put out only small amounts at a time, cut squares and cookies into smaller bite-sized pieces, and pour chips into smaller bowls. This way everyone still has the satisfaction of enjoying "a few" treats, while you have cleverly minimized the quantity they are actually taking in!
Also, avoid having more than 60g of fibre per day since this can lead to dehydration and even some nutrient deficiencies.
4. Burn Some of Those Calories!
No matter how hard you try, your guests are likely going to eat and drink far more than they need to! Plan some fun ice-breaker games to get guests walking around rather than sitting, clear the furniture and recruit your bravest guests to entice others to dance, or suggest a group stroll to take in the neighborhood Christmas lights!
Happy Holidays!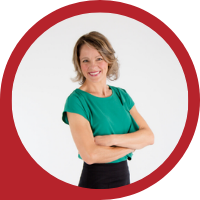 About Andrea Holwegner
CEO, Registered Dietitian, Counseling Practice Director & Professional Speaker
Andrea the «Chocolate Loving Nutritionist» is founder and CEO of Health Stand Nutrition Consulting Inc. since 2000. She is an online nutrition course creator, professional speaker and regular guest in the media. Andrea is the recipient of an award by the Dietitians of Canada: The Speaking of Food & Healthy Living Award for Excellence in Consumer Education....Read more