How Much Calcium Do I Need?
By Andrea Holwegner, Health Stand Nutrition Consulting Inc.
The Calcium Connection
BONE HEALTH
Low calcium intake throughout life is a risk factor for osteoporosis or brittle bones. Over 30 years of research has shown that higher calcium intakes lead to greater bone gain during growth, reduced loss with age, and reduced fracture risk.
BLOOD PRESSURE LOWERING
Calcium has been shown to lower blood pressure in adults and to reduce the risk of preeclampsia and high blood pressure during pregnancy. This effect was clearly demonstrated in the DASH study in which low-fat milk products lowered blood pressure sufficiently to reduce adverse cardiovascular outcomes by 25-30 %.
COLON CANCER PROTECTION
Higher calcium intakes may reduce the risk of colon cancer because unabsorbed dietary calcium complexes with free fatty acids and bile acids that can serve as cancer promoters. Low calcium intakes remove this protection.
WEIGHT CONTROL
New research supports that dietary calcium and milk products regulate metabolism and can prevent and manage obesity. Research from the NHANES III study also demonstrate a significant reduction in the odds of being obese associated with increasing dietary calcium intake. Research from the University of Tennessee has shown that calcium and dairy products may reduce the amount of fat stored in fat cells and increase the amount of fat these cells burn. Calcium rich products significantly enhance the effectiveness and efficiency of weight control diets, with substantially greater effects exerted by dairy than by calcium supplements. This shows that there are likely other components of milk products other than calcium that help with weight control.
How Much Calcium Do I Need?
A comprehensive set of nutrient reference values known as DRI's (Dietary Reference Intakes) have been developed for the healthy population of North America. The DRI for calcium is listed below:
AGE
ADEQUATE DAILY INTAKE
(Males and Females)
1-3 years
500 mg
4-8 years
800 mg
9-18 years
1300 mg
19-50 years
1000 mg
51–70+ years
1200 mg
Pregnant/Nursing 14-18 years
1300 mg
Pregnant/Nursing 19-50 years
1000 mg
Sources of Calcium in Foods
For an adult between the ages of 19-50 years consuming 3-4 servings of milk/calcium enriched products and a varied diet of other foods will meet the recommendation. One serving of milk/calcium enriched products is equal to 1 cup (250 ml) milk/fortified soy milk/fortified rice milk, ¾ cup (175 g) yogurt, and 50 g cheese (3" X 1" X 1" piece). Note: soy cheese and soy yogurt are not calcium fortified.
Calcium Considerations:
BIOAVAILABILITY
It will be difficult to get enough calcium if you don't eat any dairy products or calcium fortified soy/rice milks. This is because although many foods are high in calcium our body lacks the ability to unlock calcium in plant based foods because they naturally contain substances called oxalates and phytates. For example—although spinach has a high amount of calcium, you would need to eat 7 1/2 cups of spinach to get the same amount of calcium in one glass of milk!
VITAMIN D
Vitamin D increases calcium absorption by ~30-80%. Skin exposure of the face, arms and hands to sunlight for 15 minutes per day produces enough vitamin D for adults. However in Canada vitamin D production by the skin can be limited between October and March, or in people that don't get much sun. Sunscreen also blocks vitamin D synthesis. Milk is a good source of vitamin D, and margarine, eggs, chicken livers, salmon, sardines, herring, mackerel, and swordfish also contain vitamin D. The AI (adequate intake) recommended for vitamin D for ages 1-50 years is 5 µg (200 IU), ages 51-70 years 10 µg (400 IU), and for ages >70 years 15 µg (600 IU). 1 cup of milk/fortified soy milk/fortified rice milk provides 100 IU of vitamin D. Note: yogurt, cheese, soy yogurt, soy cheese, and calcium enriched orange juice are not fortified with vitamin D.
SUPPLEMENTS
Lactose intolerant? Not eating enough dairy products or calcium fortified soy/rice milk? Talk to a Registered Dietitian for help in choosing foods and calcium and/or vitamin D supplements.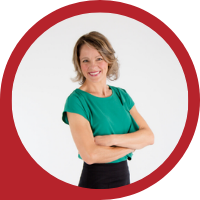 About Andrea Holwegner
CEO, Registered Dietitian, Counseling Practice Director & Professional Speaker
Andrea the «Chocolate Loving Nutritionist» is founder and CEO of Health Stand Nutrition Consulting Inc. since 2000. She is an online nutrition course creator, professional speaker and regular guest in the media. Andrea is the recipient of an award by the Dietitians of Canada: The Speaking of Food & Healthy Living Award for Excellence in Consumer Education....Read more