How one client broke the restriction rules and post-binge hangovers
Feb 1-7

marks the start of Eating Disorders Awareness Week 
#EDAW2017 #NEDAwareness
As Registered Dietitians that specialize in eating disorders, breaking dieting behaviors and creating a healthy relationship with food, our team has the chance to work with some remarkable clients that make our job very rewarding. 
Here is a letter from one of my clients about what life was like before seeking help and what it looks like now as she has learned to be more forgiving and ditch the need to be perfect. I am tremendously proud she took a blind leap of faith and trusted the process despite the initial fear and anxiety.   It is never too late to take the first step towards a better life.  I hope this letter inspires you. 
"We are made to be real, not perfect"
Dear Health Stand team,

I am writing this letter to thank you for the supportive coaching that has helped me become a better wife, mother, sister, friend and most importantly helped me just be me!
When I first came to see Andrea I was stuck inside my head and definitely feeling a post binge hangover. This was not an unusual feeling. The box Inside my mind had some pretty stringent rules and a vision of the perfect me. It was a roller coaster ride of high's and low's. Eating "clean", obsessing over ingredients to "slipping up" and demolishing whatever was in the pantry. My life depended on a good eating day or bad eating day. The voices just wouldn't stop. It was an all or nothing approach- if I was good then I would love and live life to the fullest, if I was bad I cancelled on friends, I didn't go on dates, I sat in the dark and watched movies, I told myself I wasn't enough. I wasn't good enough.
With my 30th birthday approaching sometime in the near(ish) future and a wedding coming soon, I questioned whether or not I would make it through life like this. How could I be there for my husband? How could I raise kids if I was having a "fat" day?! How could I show up to work?! I decided since I want to live this life, I needed to find some help.
Then I met Andrea at Health Stand and sought out help from a counsellor. At the beginning I was open yet hesitant – embrace ALL foods?! How was I going to do that if having "one" turned into gorging on the entire box?! But, since I am a firm believer in science and Andrea had lots of science and research based facts I decided that facts don't lie and they can be trusted. Throughout our sessions, Andrea helped me navigate through the voices to a place of self compassion. A truly soulful way of not only eating but living. Most importantly I have embraced the quote "we are made to be real, not perfect".
Today I have invaluable tools that I will be there the rest of my life – because let's face it life gets messy! Whenever I get overwhelmed or stressed (which has been a lot lately with a new baby on our hands!) I see old thought patterns and habits pop up. And that's okay. WOW! That's okay. I love myself through it, I observe, I regroup back to the toolbox and pull out a hammer, a wrench and maybe some nails. Pat myself on the back and keep loving hard.
Andrea- I can be me. I am forever healing with heart and savouring this box of chocolates life has to offer!
Thank you,
Annonymous
If this post resonated with you, and you would like to break the rules that are keeping you stuck, contact us about a nutritional counselling program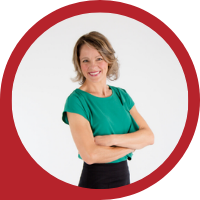 About Andrea Holwegner
CEO, Registered Dietitian, Counseling Practice Director & Professional Speaker
Andrea the «Chocolate Loving Nutritionist» is founder and CEO of Health Stand Nutrition Consulting Inc. since 2000. She is an online nutrition course creator, professional speaker and regular guest in the media. Andrea is the recipient of an award by the Dietitians of Canada: The Speaking of Food & Healthy Living Award for Excellence in Consumer Education....Read more