How Restaurants Can Market to Health Conscious Consumers
Understanding the needs and wishes of healthy eaters and those with specific health challenges is becoming more important for restaurants and the foodservice industry as a whole. Consumers are becoming more aware and will continue to demand choice and ask questions about your offerings. With an increasing number of people either struggling with their weight or dealing with serious health issues such as with high cholesterol, high blood pressure and diabetes, they will expect restaurants to offer solutions.
Revisit your offerings and consider product innovation that of course tastes good, but also has an appeal to a growing number of your customers in the following health conscious consumer groups:
General health advocates
This consumer group wants to see balanced meals, whole foods rather than processed foods and will value a "cook-from-scratch" approach. They may appreciate locally grown foods, organic choices or eco-friendly options. If you are targeting this large, diverse market, focus on a farm-to-table approach, natural, pure and simple ingredients. Emphasize nutrient-dense foods such as whole grains, fresh fruits, colourful vegetables, lean meats, fish, seafood, and calcium-rich foods. Incorporate healthy fats from olive oil, nuts, seeds and avocados.
This consumer group may also value premium ingredients and be interested in trying new trendy offerings such as super-fruits (acai, goji berry, mangosteen), heirloom produce (potatoes, apples, tomatoes), exotic choices (fruit, mushrooms, ancient grains, hemp seeds, chia seeds) and interesting beverages (custom made smoothies, probiotic beverages, coconut water, rooibos lattes, chilled custom brewed tea and fresh pressed vegetable juice using carrot and beets). They may also try vegetarian options or dairy-free or gluten-free products regardless of whether or not they need to avoid these for medical or personal reasons.
Weight-loss focused consumers
A significant number of your customers are trying to lose weight and one important factor to consider in this area is reducing calorie consumption. There are two ways you can look at managing lower calorie items for this subgroup that focuses on volume or value.
A focus on volume means offering customers a good-sized portion that doesn't make them feel deprived. Many consumers eat with their eyes not their stomachs and need to have a full plate to feel satisfied. Vegetables and fruits are particularly important to include since you can deliver plenty of volume without many calories. Fats, starches and protein-rich choices are important parts of a balanced meal but be cognizant about portion sizes since they may provide more calories without the same volume. Offer small whole-grain pancakes with berry compote, a dollop of Greek yogurt and a large serving of fruit. Try a half-size order of pasta served with a large salad. Consider a mini quesadilla with plenty of raw veggies and dip.
The second way to market to customers trying to lose weight is by value, or what could be called the indulgence factor. Give them down-sized indulgent choices so they can treat themselves with what they want while keeping their calories in check. Small-bites and share plates that help weight-conscious customers manage portion control is a welcome change and allows people to live in the middle between all or none. It is a lot more fun for your customer to order a mini-dessert than leave feeling deprived or, alternatively, stuffed and defeated after a large treat.
Customers with health issues
Many people have health concerns such as high blood pressure, high cholesterol, diabetes, celiac disease and others. More restaurant and foodservice establishments could be helping this customer know what to choose. If you have items that are reduced sodium, lower fat, trans-fat-free, lower sugar or gluten-free, be sure to flag these for consumers that have medical issues.
Food industry suppliers are increasingly making lower-sodium choices available and it would be best to source these whenever possible. Everyone wins when you market "choice" so customers can choose to keep their foods less salty or add more salt to please their own palate.
To reduce blood cholesterol levels your customers don't need to eliminate fat, they need help choosing the right type of fat. Offer expanded side dishes such as oven-baked sweet potato fries roasted in olive oil and salads with seeds or nuts and vinaigrettes and stamp them on the menu with a heart-healthy label. Give them a choice of a heart-healthy pizza with a whole-grain thin crust, loads of vegetables and a small amount of strong cheese.
Include at least one diabetes-friendly dessert on your menu such as a small fruit crumble or low-sugar frozen yogurt with fruit. Consider sourcing only gluten-free thickeners and sauces used onsite to make your menu easily adaptable to someone with celiac disease or gluten sensitivity.
After taking all of the above into consideration, be sure to consult with a registered dietitian who can offer you tasty new ideas that can increase the appeal of your products and menu to health-conscious consumers starving for more choice.
Click below for a print friendly PDFs of this article.
PDF #1  |  PDF #2  |  PDF #3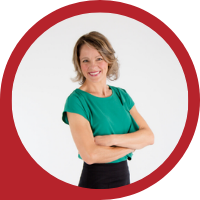 About Andrea Holwegner
CEO, Registered Dietitian, Counseling Practice Director & Professional Speaker
Andrea the «Chocoholic Nutritionist» is founder and CEO of Health Stand Nutrition Consulting Inc. since 2000. She is an online nutrition course creator, professional speaker and regular guest in the media. Andrea is the recipient of an award by the Dietitians of Canada: The Speaking of Food & Healthy Living Award for Excellence in Consumer Education....Read more