How to Control Cravings
Managing food cravings and junk food
Listen to Andrea Holwegner on Food Cravings:
Craving sugar? Struggling to say no to potato chips and junk food? Find it hard to stop eating something enjoyable? These are common issues we see every day in our nutrition counselling practice. The good news is you never need to strive to eliminate all junk food from your diet, but you do need to become a pro on how to manage it to keep your health, energy and ability to manage your personal best weight in check.
Why do we experience food cravings?
Food cravings can sometimes be the body's way of correcting a deficiency.
Athletes for example that are depleted of glycogen (the storage form of carbohydrate in the muscle) will often be hungry and crave carbohydrates as the body attempts to restock drained fuel sources.
Pica, or the craving for non-foods such as dirt (a source of iron), is common in people who are iron-deficient.
However most of the time the body doesn't provide clear guidelines of its nutrient needs. There is also more to food cravings than just hunger.
Cravings magnify when we diet, are under stress, skip meals, feel depressed, or are premenstrual.
Many people crave carbohydrates (breads, sweets etc.) because a carbohydrate-rich meal/snack stimulates the release of the hormone insulin which lowers blood levels of all amino acids except tryptophan. Tryptophan levels in the brain rise which is converted to serotonin. Serotonin is a neurotransmitter that regulates sleep, reduces pain and appetite, and generally calms you down and improves your mood.
Food cravings are also fueled by an addiction to pleasure much like the high experienced after intense exercise. A calming response is immediately produced by foods such as sweets that release quick acting chemicals in the brain called endorphins.
Cravings are also a result of habit. If you condition yourself over time to have a mid-afternoon chocolate bar or can of pop and it makes you feel good, you are likely to have it again.
Cravings may also be a result of childhood food associations, memories, cultural beliefs and traditions.
It is also likely that we all inherit a unique balance of appetite control chemicals and unique experiences that shape our food preferences and cravings.
How can I manage cravings?
Regardless if you are struggling with emotional eating, bingeing or are simply wondering how best to manage cravings for junk food, you have choices.  
There are 3 options you could choose over the course of a week:
Eat the junk food now (address a food craving head on and finish all the junk food you have in the house right away)
Do not eat the junk food (avoid eating junk food at all cost since once you start it is hard to stop)
Don't eat the junk food now, but you can have it later (you don't believe in denial but should wait and see if this is a true craving or an impulsive or emotional decision)
If you answered number three, you might be correct.  
Recent preliminary findings by assistant professor Nicole Mead from Catolica-Lisbon School of Business and
Economics in Portugal found that postponing a craving for chocolate candies to a later time, decreases the desire for them. What is more, it helped decrease how much is eaten over the course of a week. The researchers repeated this study with high school students provided with potato chips. They found that students in the first group told to eat the chips whenever they want had them 4 times that week and those in the second group told not eat the chips ate them 4.5 times that week. Those in the third group told to postpone chip eating until later ate the least amount of chips at 2.4 times that week.
Why does delaying eating junk food work to shrink how much we eat?  
Researchers suspect that giving yourself time provides you with a cooling off period to sort out the debate of 'all-or-nothing' eating. Researchers also suspect that making a vague postponement claim rather than a specific time to eat the junk food later is likely better. If you struggle with overeating sweet or savory foods, the next time you feel a craving coming on instead of saying "I will have this later at 7pm," choose instead to say "I will have this later if I want it."
When it comes to eating soulful foods chosen for fun and taste rather than health you may have thought there were only two choices; all or none. Remember there is a third choice that is likely best; later if I want.
Are there any other tips for food craving management?
Here are 3 key nutrition principles to manage food cravings:
Breakfast sets the stage for how the rest of your day will go. If you are overeating later in the day it is impossible to fix the evening without fixing the early part of the day. Physically your body needs enough nourishment early in the day otherwise inevitably you will physically experience rebound hunger later. Emotionally if you know that you haven't eaten enough early in the day, it is also easy to adapt to the unhealthy mindset to "binge now, restrict later" which isn't conducive to healthy living.
KISS (Keep ingesting something, silly)
You need to eat something every 3-5 hours to keep your energy up and to avoid getting too hungry and overeating. Willpower always fails so fuel your body on time.

Find the satisfaction factor
Somewhere between feeling starved and stuffed after a meal is a place where you have truly eaten enough food to feel full and satisfied. If you stop eating because you think you "should" rather than because you truly had enough, you can bet you will be looking for food again soon. We all want what we can't have. Honor your hunger and respect your body by eating mindfully and checking in your hunger and fullness cues. The more you practice the better you will get.
For nutrition counselling, an overview of Andrea's one-of-a-kind Online Nutrition Course to help you achieve better health, energy and your personal best weight or to subscribe to Andrea's free monthly newsletter loaded with more nutrition tips, videos, healthy recipes and more visit this page to sign up.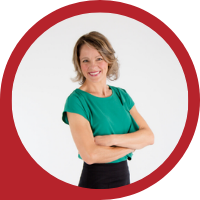 About Andrea Holwegner
CEO, Registered Dietitian, Counseling Practice Director & Professional Speaker
Andrea the «Chocolate Loving Nutritionist» is founder and CEO of Health Stand Nutrition Consulting Inc. since 2000. She is an online nutrition course creator, professional speaker and regular guest in the media. Andrea is the recipient of an award by the Dietitians of Canada: The Speaking of Food & Healthy Living Award for Excellence in Consumer Education....Read more