How to cut up a pomegranate (and 6 ways to enjoy)
It's pomegranate season!
Wondering what else you can do with these outside of eating them raw? Try these suggestions:
Toss into a fresh green salad with a vinaigrette and roasted pumpkin seeds.
Sprinkle pomegranate seeds to fresh roasted brussels sprouts before serving.
Serve sprinkled over a platter of sliced oranges and sliced grapefruit with fresh mint as a colorful fruit salad.
Kids will love them added to homemade fruit cocktail made by combining them with sliced apples, berries and pears with unsweetened fruit juice.
Add to sparkling water or a can of club soda with lemon or lime wedges.
Add them to a rice pilaf or a middle eastern style recipe for jeweled rice.
Want to know how to cut up a pomegranate?
Roll the fruit first to loosen the seeds.
Score around the middle and tear it open into halves.
Hold each half over a bowl, seeds facing down and tap the skin with a wooden spoon, squeezing a little to release the seeds.
Alternatively, score 4 lines from top to bottom to quarter the pomegranate.
Submerge the pomegranate in a bowl of water and and pull apart the quarters, releasing the seeds with your hands.
The pith will float and the seeds will sink. Remove the pith and discard, then drain the seeds.
Click on the video below that shows 2 different ways to remove pomegranate seeds:
We hope you have enjoyed these food tips for how to cut up a pomegranate and ways to enjoy eating the seeds!
Looking for more simple meal planning tips and healthy recipes for a healthier lifestyle?  Sign up for our weekly newsletter for a healthy recipe of the week (and nutrition articles and videos with a balanced living philosophy to help encourage healthy habits but still save room for your favorites). Our nutrition newsletter is written by the Calgary Nutritionists on our team who each hold a professional Registered Dietitian license to ensure you are getting credible advice.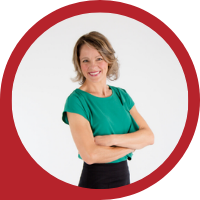 About Andrea Holwegner
CEO, Registered Dietitian, Counseling Practice Director & Professional Speaker
Andrea the «Chocoholic Nutritionist» is founder and CEO of Health Stand Nutrition Consulting Inc. since 2000. She is an online nutrition course creator, professional speaker and regular guest in the media. Andrea is the recipient of an award by the Dietitians of Canada: The Speaking of Food & Healthy Living Award for Excellence in Consumer Education....Read more