How to get your kids to eat more veggies & fruit
By Andrea Holwegner BSc, RD  www.healthstandnutrition.com      Twitter: @chocoholicRD
Teresa was a healthy, active five-year old, but a classic picky eater. She had a handful of foods she liked for lunch, including cheese sandwiches, dry cereal, and crackers and cheese.
She liked a few select fruits, but her parents struggled to get her to eat enough veggies.
Like many well-intentioned parents, they offered good-sized portions of Teresa's favourite foods since they didn't want her to go hungry.
Little did they know this might be further hindering Teresa's ability to eat more veggies and fruit.
An article published in the February 2012 American Journal of Clinical Nutrition by Jennifer Savage and colleagues reported that serving smaller entree portions to kids ages three to five is one way to increase fruit and vegetable intake.
If you offer your child a half portion of macaroni and cheese or half of a sandwich, they will likely have room to eat the raw veggies and dip or fruit salad you prepared.
This study also found kids eat fewer overall calories, which could be an important strategy if your child is overweight.
How much does my child need per day?
Health Canada recommends the following vegetable and fruit servings per day: children ages two to three, four servings per day; kids ages four to eight years, five servings per day; and kids ages nine to 12 years, six servings per day.
One serving is equal to 1/2 cup (125 mL) fresh, frozen or canned vegetables or fruit, 1 cup (250 mL) leafy greens, 1/2 cup (125 mL) unsweetened juice or 1/4 cup (50 mL) dried fruit.
Kids should consume no more than 1/2 cup (125 mL) full-strength juice per day to make sure they get the variety of other foods needed for growth and health.
Try the 2 x 2 rule
Families in our practice have found my 2-x-2 rule helpful. Offer two different veggies at two different times in the day. For example, offer grape tomatoes and celery sticks with hummus or dip for an afternoon snack, and for supper offer steamed peas and raw carrots. The more frequently you offer veggies and the more variety, the more kids can potentially eat.
Here are some other ways to get your kids eating more of the essential vegetables and fruits needed for health:
Change texture
Many kids are not big on salads but may enjoy shredded cabbage or carrots. Instead of large chunks of hard veggies, try fine textures. Use a julienne peeler for cucumbers, zucchini and red peppers.
Go for smoothies
If fruits are a challenge, a breakfast or after-school smoothie is one of the best ways to eat your fruit. Try traditional ones, such as banana or frozen berries, but also consider others, like watermelon, mango, pineapple and kiwi.
Be sneaky
Add pureed onions, mushrooms, peppers, carrots, spinach and more to soups, stews and sauces. Add small pieces of steamed cauliflower to macaroni and cheese or mashed potatoes.
Frame the choice
Instead of saying, "What would you like in your lunch?" reframe this question to several questions. "Outside of a cheese sandwich, we need to include fruits and vegetables in your lunch; would you prefer carrots or cucumbers? Would you prefer kiwi pieces or strawberries?"
Make it fun
Go to the library or search online for kids recipes and cookbooks that offer plenty of visual ideas to make food look good. Let kids help with selecting and preparing new items. Bring kids to the farmers' market and, this spring, grow something in a garden. My niece Zoe loves tomatoes and it all started with the fascination of watching them grow in her backyard.
Give them fun names such as "little trees" for broccoli or "Popeye power" for spinach. Make foods and how you serve them visually interesting. For older kids, fruit on kebabs or stabbing cooked carrot pieces with toothpicks can make a surprising difference than when they are just served on a plate to eat with a fork.
Use peer pressure
The more often your child eats with other kids who are good eaters and who eat foods that are currently refused, the more likely they will be to try them.
Repeat, repeat, repeat
Kids sometimes need to see and try new foods 20 or 30 times before they will accept them. Don't give up after half a dozen times; your kids will surprise you.
Just when you feel like nothing you are doing is working, remember the words of author and speaker Linda Edgecombe: "Shift happens."
Andrea Holwegner "the chocoholic dietitian" owns Health Stand Nutrition Consulting Inc. Visit www.healthstandnutrition. com or phone 403-262-3466 for nutrition counselling, speaking engagements and to subscribe to her free monthly ezine.  Follow her on Twitter:  @chocoholicRD
Raw Veggie Dip
2/3 cup (150 mL) light mayonnaise or salad dressing
1/3 cup (75 mL) light sour cream
splash Worcestershire sauce
1 tbsp (15 mL) dried dill
1 tsp (5 mL) Dijon mustard
pinch salt
pinch pepper
1/4 tsp (1 mL) onion powder
Stir the above ingredients together in a bowl and refrigerate.
Makes 6 servings.
Nutrition information per serving: calories 71, carbohydrates 4 g, fat 5 g, protein 1 g, dietary fibre 0 g.
Health Stand Nutrition Consulting Inc.,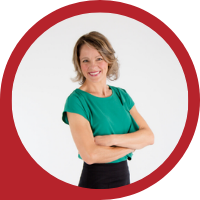 About Andrea Holwegner
CEO, Registered Dietitian, Counseling Practice Director & Professional Speaker
Andrea the «Chocolate Loving Nutritionist» is founder and CEO of Health Stand Nutrition Consulting Inc. since 2000. She is an online nutrition course creator, professional speaker and regular guest in the media. Andrea is the recipient of an award by the Dietitians of Canada: The Speaking of Food & Healthy Living Award for Excellence in Consumer Education....Read more