How to Handle Teen and Tween Nutrition Challenges
Tweens and teens have some of the poorest health habits of all age groups in the country. Considering many adolescents have not yet developed chronic diseases adults are facing, they can fly under the radar. An absence of high blood pressure, elevated cholesterol levels, high blood sugars or weight issues doesn't mean your tween or teen is healthy. Similarly just because your kids are not overweight doesn't mean they are healthy especially if they live off junk food or are starving themselves on a diet of mostly salad because they are worried about being fat. Much of the benefits of good nutrition for prevention of obesity, cancer, diabetes, heart disease, osteoporosis and eating disorders start at home with healthy family meal patterns.
I am grateful to work with
registered dietitian Sherene Sieben
who is not only our practice's guru of
pediatric and family nutrition
, we also call her the "food enthusiast" given her culinary passion for living what she calls a delicious life. Over the last 15 years, Sherene has helped families navigate health concerns, feeding issues, picky eating and teen nutrition concerns. As a working mom of an 11-year-old daughter and 13-year-old son she knows the
challenges of feeding adolescents
.
Here is our SWOT (strengths, weaknesses, opportunities and threats) analysis for feeding tweens and teens:
STRENGTHS: Tweens and teens can help The good news is that kids are old enough to help plan, prep and clean up. The bad news is that you might need to establish some new rules if your kids haven't been helping to date. When it comes to planning each week, place two lists on the counter or fridge for everyone to use. The first is the "We are out of … grocery list" to be used if you devour the last of any food or have food requests. The second is an "I'm craving … meal wish list." If you are stumped for ideas, place all your cookbooks in the family room and bring out the laptop or tablet and get kids to pick 10 dinner ideas that they would be willing to try. "Before shopping send them a text for final requests and try to honour this within reason," suggests Sieben. "You want to teach them independent thinking, ownership and accountability which are skills necessary when they leave home on their own." Assign kids tasks such as getting out all the ingredients from a recipe and placing them on the counter for you. Have them wash, chop, stir and get them involved in cooking whenever possible.
WEAKNESSES: Failing to plan. Our overscheduled lives and extracurricular activities that often happen over the dinner hour have made it harder for family nutrition to be prioritized. "Our first year of ringette and hockey led to more eating out than my husband and I liked," says Sieben. "Meal planning has saved our family." When it comes to timing, lose the guilt about a so-called "dinner-hour" and think about it more abstractly. Sieben reminds parents and caregivers that if the kids have practice at 5:30 p.m. you have two good choices, have an early dinner at 3:30 p.m. and snack at 8 p.m. or vice versa. If you are a good cook, meal planning on the fly the night before or the same day can work great since you can toss together ingredients and make substitutions easily to make a meal. For those that struggle with cooking, plan meals with a corresponding grocery list for a week at a time. Sieben suggests one way to look at a weekly meal plan is to have three meals that require cooking, three disguised leftovers and one flex-meal that is super speedy, like "breakfast for supper." Disguised leftovers could be roasted chicken with rice and veggies one night and chicken quesadillas or barbecue chicken pizza on another night.
Get kids to "drive dinner" at least once a week by suggesting what they want to see on the menu. "Teens get a say too. Incorporate their favourites in a balanced or healthy way" suggest Sieben. Make healthier meal nachos with lean ground meat or beans, grated cheese, corn, red peppers, salsa and guacamole. Pizza can be made healthier with whole grain crusts, lots of veggies and a plate of raw veggies and dip to snack on while the pizza cooks. Burgers are a popular choice using lean meat or poultry, whole grain buns and by adding a side salad and homemade fries (toss sliced potatoes or yams in olive oil with a pinch of salt and bake).
OPPORTUNITIES: "See food" planning. For tweens and teens, what they see is often what they will eat. Make it easy for them to see the healthy choices. "After school kids are famished and will grab whatever is easy. Think about having about a dozen healthy options that can easily be grabbed in five minutes or less" suggests Sieben. Top after school snack attacks:
Reheat frozen homemade pizza slices, pizza bagels, soup or French toast.
Batch cook oatmeal with raisins and apples and portion in individual bowls to reheat.
Ready to go bento box of nuts, dried fruit and whole grain crackers.
Leave the smoothie blender on the counter and place yogurt and milk in the blender in the fridge so all kids have to do is add banana and frozen berries or mango.
Hard cooked eggs and whole grain crackers or toast.
Fruit and "yonut" dip platter (cantaloupe, melon, pineapple, grapes, berries served with a dip made from mixing yogurt and nut butter).
Homemade muffins or energy bars and pre-sliced or cubed cheese.
Premade yogurt parfaits with yogurt, berries and granola.
Taco chips, salsa and guacamole.
Platter of raw veggies, pita and hummus.
Whole grain wrap with nut butter and rolled around a banana.
Teach them how to make one-pot mac and cheese (see recipe)
THREATS: Kids can eat whatever & whenever they want. Between school cafeterias, convenience stores and fast food outlets everywhere, kids can independently choose food you have no control over. "This is why eating as a family is critical so that eventually kids make better choices on their own. Mealtime is more than just about eating; it is about teaching kids about nutrition, family connectedness and socializing, while enjoying everything from vegetables to dessert (yes, there is always room for dessert!)" says Sieben.
When it comes to junk food, Sieben suggests it is important to teach kids to regulate these foods on their own. Instead of telling them they can only have one or two cookies, Sieben suggests it is better to make food a non-issue. Look at the timing and tell them they can have cookies after supper, or suggest they include a glass of milk or piece of fruit. "Talk to your kids about what they could do versus what they should do" says Sieben. Since no one likes to be lectured she adds "empower them to make better or more balanced choices."
One Pot Mac & Cheese
Recipe by dietitian Sherene Sieben www.healthstandnutrition.com
What You Need:
2 cups macaroni
2 cups water
1 cup milk
1 tbsp butter
1 cup cheddar cheese, grated
How You Prepare:
Place all ingredients except cheese in a pot and boil 15 min until tender. Add the grated cheese and enjoy! For a balanced meal serve with steamed veggies, salad or raw veggies and dip.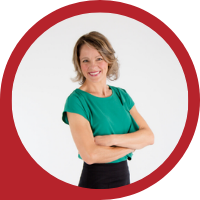 About Andrea Holwegner
CEO, Registered Dietitian, Counseling Practice Director & Professional Speaker
Andrea the «Chocoholic Nutritionist» is founder and CEO of Health Stand Nutrition Consulting Inc. since 2000. She is an online nutrition course creator, professional speaker and regular guest in the media. Andrea is the recipient of an award by the Dietitians of Canada: The Speaking of Food & Healthy Living Award for Excellence in Consumer Education....Read more