How to lower your blood pressure: Cutting sodium is only part of solution
By Andrea Holwegner, For The Calgary Herald  July 14, 2011
As the old Chinese proverb says, "he who takes medicine and neglects to diet wastes the skill of his doctors."
John, a 46-year-old real estate investor and coach for his son's hockey team, knew his busy lifestyle had caught up to him as he left his doctor's office with a prescription for medication to lower his blood pressure.
Long days at the office and busy evening schedules with his family made it difficult for him to maintain his fitness regimen.
Pair this with sloppy nutrition habits and an aging metabolism, and it was no surprise John had developed a beer belly on top of his recent diagnosis.
John new that he needed to watch his sodium intake, but was surprised we didn't discuss sodium in great detail until much later into our nutrition counselling sessions. There was something else more significant he needed to focus on first.
Start strong
While John could have focused on reducing salt, starting to exercise or making other lifestyle changes, I encouraged him to start with changes that would give him the biggest result for his effort.
For most people, this means losing weight if you are overweight, especially if you carry extra weight around your midsection.
When John heard that even losing five or 10 pounds could drop his blood pressure, he made a deal with his doctor that he could hold off starting any medication to see if weight loss would help.
John reduced his portion sizes overall by switching to a smaller cereal bowl in the morning, adding fruit to his breakfast, eating smaller portions of meat and starchy foods at supper, and eliminating potato chips from this diet (except on weekends).
These changes may sound minor, but because they were done daily, they added up to big calorie deficits over time. John lost a steady pound per week for a few months and effectively reduced his blood pressure without starting a high blood pressure medication.
If you are overweight, what do you do every day (rather than on the weekend or only occasionally) that could reduce your calorie intake? If you don't know, keep a food journal for a week.
Why not start by keeping your overall eating patterns the same but shrinking what you eat by just a bit?
Reducing your intake by a couple hundred calories per day will result in a few pounds of weight loss every month.
Build in key strategies
Research from the DASH (dietary approaches to stop hypertension) eating plan has shown you can reduce your blood pressure substantially through the food you eat.
This eating plan has a strong emphasis on potassium-rich vegetables and fruits and calcium-rich foods among other foods (www. nhlbi.nih.gov/hbp/index. html). Follow this under the advice of a health care provider, however, especially if you have other health issues that mean you should restrict your potassium intake.
Approximately half of Canadians aged 31 to 50 are below the minimum recommended number of servings of vegetables and fruit according to Statistics Canada in the Canadian Community Healthy Survey. This survey also showed more than 65 to 79 per cent of adults aged 31 and older are falling short in calcium.
Since most people need to get more fruits, veggies and calcium-rich foods such as milk and yogurt, next time you are wondering what to have as a snack, start with these food items first. Correcting a deficiency there could help to reduce your blood pressure.
Fine tune
As you likely know, reducing your sodium consumption is also an essential part of reducing your blood pressure.
Other lifestyle factors such as quitting smoking, watching alcohol consumption, getting regular physical activity and reducing stress are also important to help manage a healthy blood pressure.
The best way to be successful is to take one step at a time when it comes to lifestyle change. It may be slow, but you will have a better chance of sustainable success.
ANDREA HOLWEGNER, THE CHOCOHOLIC DIETITIAN, OWNS HEALTH STAND NUTRITION CONSULTING. VISIT WWW.HEALTHSTANDNUTRITION.COM OR PHONE 403-262-3466 FOR MORE INFORMATION.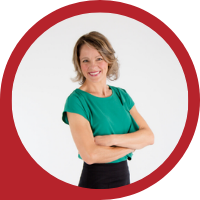 About Andrea Holwegner
CEO, Registered Dietitian, Counseling Practice Director & Professional Speaker
Andrea the «Chocolate Loving Nutritionist» is founder and CEO of Health Stand Nutrition Consulting Inc. since 2000. She is an online nutrition course creator, professional speaker and regular guest in the media. Andrea is the recipient of an award by the Dietitians of Canada: The Speaking of Food & Healthy Living Award for Excellence in Consumer Education....Read more