How to Make Guacamole 5 Ways
Try our easy guacamole recipe and other variations!
Looking for a recipe on how to make guacamole? We have a traditional easy guacamole recipe for you and some fun and tasty variations for your to try.
Wondering if guacamole is healthy?
You bet it is! Avocados contain heart healthy monounsaturated fats and are loaded with good nutrition.
The dark green part of an avocado beside the skin is the most nutritious part as it contains the highest levels of the nutrient beta carotene. The best way to make sure you reserve this dark green part of the avocado is to peel the skin away carefully.
Wondering the best way to cut an avocado?
Cut avocados into quarters and then remove the seed rather than trying to cut in half and striking the seed with a knife. Why? To prevent accidentally cutting your hand if your knife slips (a phenomena known as "avocado hand" which is more common than you think.
Watch this short video on how to cut an avocado safely:
5 Simple Guacamole Recipes
Considering both adults and kids alike enjoy guacamole, here are 5 ways to enjoy:
1. Traditional Guacamole:
Take 2 ripe mashed avocados, 1 tbsp fresh squeezed lime juice, ¼ cup minced onion, 1 clove minced garlic, 1 finely chopped tomato, 2 tbsp fresh chopped cilantro, diced jalapeno pepper (optional) and salt to taste.
2. High Protein Guacamole:
Steam 1 cup shelled frozen edamame beans and mash with a fork (or ideally place in a food processor to blend finely) and add to the above traditional guacamole recipe.
3. Tropical Guacamole:
Add small diced pieces of fresh mango or pineapple to the above traditional recipe.
4. Shrimp Scampi Guacamole:
Use lemon juice instead of lime juice in the above traditional recipe and omit the tomato. Add an extra clove of garlic, 1 cup of cooked shrimp and 1/4 cup of shredded Parmesan cheese.
5. Chipotle, Black Bean and Corn Guacamole:
Stir in 1 canned and chopped chipotle pepper and 1 tbsp of adobo sauce from the canned chipotles. Add ½ cup corn kernels and 1/2 cup canned rinsed black beans. *hint: freeze extra chipotles and black beans in single servings for future recipes.
We hope you have enjoyed this article on how to make guacamole 5 ways. Do you have a different variation for an easy guacamole recipe? Let us know in the comments your idea!
Looking for more simple meal planning tips and healthy recipes for a healthier lifestyle? Sign up for our weekly newsletter for a healthy recipe of the week (and nutrition articles and videos with a balanced living philosophy to help encourage healthy habits but still save room for your favorites). Our nutrition newsletter is written by the Calgary Nutritionists on our team who each hold a professional Registered Dietitian license to ensure you are getting credible advice.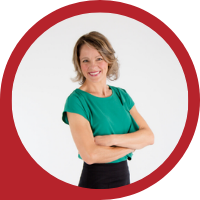 About Andrea Holwegner
CEO, Registered Dietitian, Counseling Practice Director & Professional Speaker
Andrea the «Chocoholic Nutritionist» is founder and CEO of Health Stand Nutrition Consulting Inc. since 2000. She is an online nutrition course creator, professional speaker and regular guest in the media. Andrea is the recipient of an award by the Dietitians of Canada: The Speaking of Food & Healthy Living Award for Excellence in Consumer Education....Read more