How to Set a New Year's Resolution You Can Keep for Nutrition Success
Dietitian Approved Ways to Set a Healthy Eating New Year's Resolution

You may have heard conflicting opinions on if setting a New Year 's resolution is actually beneficial given so many people fail to follow them. I am strong believer in setting a New Year's resolution but starting small.
Work towards making sure it is clear and supportive rather than discouraging and overwhelming. Perhaps making small changes will be easier to maintain for you, and easier to see success. This is a win/win, because the more success you have, the easier it will be to keep at the small changes!
Here are 3 ways you may consider setting a sustainable New Year's resolution that shifts change and inspires success.
1. Clarify non-negotiable and negotiable priorities
Fill out the following statement that tells the story of what it looks like for you to eat healthy but still have a fun, flexible life.
"I am never giving up _____________________ but I'm willing to work on _____________________ ."
Here is an example: "I am never giving up potato chips, beer or some other soulful food chosen for enjoyment every day but I am willing to work on eating veggies at least twice per day at lunch and supper as well as not skipping breakfast on the weekend."
2. Determine the top 3 specific areas of focus
Bite-sized changes add up to supersized results so rather than thinking big, think small.
Here are a few examples:
Download a hydration water timer on my phone to prompt me to get enough fluids in (this one is one of my personal goals for 2016)
Pack 10 pieces of fruit to the office on Monday and place them in a fruit bowl on my desk with a target that the bowl is empty by the end of the work week (2 per day)
Plan, prep and shop for 3 supper meals per week (use leftovers, freezer-ready options and easy ideas with minimal cooking the other nights)
3. Develop one mantra for the entire year
If something specific doesn't fit for you, why not try setting a single mantra for the entire year? What is the one single personal thing you are going to focus on learning, testing and implementing? Once you decide this, everything else you decide to shift positively is a bonus.
I set a mantra each year. For example, one year it was simply "Be mindful and let be" given my focus in developing a meditation practice and mindfulness in everyday life. For the duration of the year I read lots about this topic, attended classes and was open to any ideas that come my way about mindfulness. At the end of each year, I was amazed to look back at all the little things that shifted simply because I focused on just one thing.
How do you set New Year's resolutions? If you have a different way of thinking about this or want to share your resolution, leave a comment below as I am interested to hear your thoughts.
Making healthy eating changes and following through with your New Year's Resolution is easier when you work with the right nutrition coach for your needs. Contact us for a free consultation to discuss your goals and health concerns so we can fit you with the best Calgary nutritionist or virtual online Registered Dietitian for your needs.
We specialize in nutrition counseling for everyday healthy meal planning, weight concerns (weight loss, weight gain), eating disorders (anorexia, bulimia, binge eating disorder), sports nutrition, pediatric nutrition, digestive health issues (such as IBS or irritable bowel syndrome, constipation or diarrhea), high cholesterol, diabetes and more. Check out our  Nutrition Counseling Programs for more information.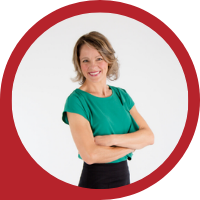 About Andrea Holwegner
CEO, Registered Dietitian, Counseling Practice Director & Professional Speaker
Andrea the «Chocoholic Nutritionist» is founder and CEO of Health Stand Nutrition Consulting Inc. since 2000. She is an online nutrition course creator, professional speaker and regular guest in the media. Andrea is the recipient of an award by the Dietitians of Canada: The Speaking of Food & Healthy Living Award for Excellence in Consumer Education....Read more