Intuitive Eating 101: Freedom From Dieting
Why our Dietitian team loves intuitive eating
For as long as I can remember our Dietitian team has been teaching the concepts of intuitive eating at our Calgary Nutritionist / Online Dietitian practice.  Not only do the concepts pair beautifully with our core nutrition philosophy we teach our clients, our Dietitian team each live and breathe the concepts of intuitive eating personally.
We've never chosen to use the words "clean eating" on our blog or with our clients since to "eat clean" implies that anything that is not a perfect nutritional nerdy choice can be considered the opposite (dirty). Our philosophy will always stand for BALANCED (NOT CLEAN). This is because eating fully is about balancing healthful food choices (chosen for good health) AND soulful food choices (chosen exclusively for taste, social fun and joyous living). Our experience since the year 2000 in the nutrition field has taught us that failing to look at both parts of eating always leads to an imbalanced life.
If you have been following a weight loss diet that is straining your relationship with food and your body, read on. There is another way. You can break out of diet prison and find freedom. Be open to looking at a very different way of living.
You've likely heard the term intuitive eating but I wanted to explore an overview of the 10 key principles of intuitive eating and what it means to be an intuitive eater.
What is meant by "intuitive eating"?
The Merriam-Webster Dictionary defines the word intuitive as "having the ability to understand things without proof or evidence."
Evelyn Tribole and Elyse Resch authored the book Intuitive Eating, which is one of the most recommended books used in our practice for our weight loss clients and those that struggle with their relationship of food and their body. The authors define intuitive eating as "an approach that teaches you how to create a healthy relationship with your food, mind and body – where you ultimately become the expert of your own body."
Intuitive eating encompasses trusting your own inner wisdom to guide you, distinguish between physical and emotional feelings as well as making peace with food, your body and self-worth.
Is it a matter of following "eat when you are hungry, stop when you are full?"
Intuitive eating might sound simple but it is actually quite complex as our belief system and rules about eating evolve over time.
Our family upbringing, genetics, environment and exposure to nutrition information and dieting can confuse or disrupt our ability to trust ourselves.
How do you know if someone is an intuitive eater?
We often ask our clients a range of questions to find out their food rules, fear foods, foods they will "never eat" or "shouldn't have" to get a sense of where there is distrust with food and their body.
Signs you are NOT an intuitive eater:
• There are "good" and "bad" foods
• There are rules around exercise
• There is guilt around what/when/where you eat
• Obsessive measuring of food or weight
• There are "safe" and "unsafe" foods
• Chronic counting of calories, carbs, protein, fat or points
• Using food to stuff or starve emotions
• Comparing your food to other people
What are the principles of intuitive eating?
In their book Intuitive Eating, Evelyn Tribole and Elyse Resch suggest the following 10 principles of intuitive eating:
1. Reject the dieting mentality
Any restrictive diet that does not allow flexibility over your intake is doomed to fail. Stop chasing the latest and greatest cure-all weight loss books as diets can temporarily lead to weight loss but don't address long-term sustainable weight loss.
2. Honor your hunger
Simply put, eat enough. Denying yourself enough calories, carbs, protein and fat will trigger a primal drive to over-consume.
3. Make peace with food
Have unconditional permission to enjoy ALL foods. There are no good or bad foods. We all want what we can't have – if you deny yourself enjoyable foods it often leads to overeating and feelings of guilt.
4. Challenge the food police
We all have an inner critic that needs to stopped in order for us to succeed. Your automatic thoughts that tell you were good for starving yourself or bad for eating a forbidden food, need to be addressed. Recognize these unhealthy thoughts and "thought stop" aka (scream a loud "NO!" to these damaging thoughts in your head).
5. Respect your fullness
Slow down, eat away from distractions and tune into your body signals for fullness. Check-in at the start, mid and end of a meal about hunger and fullness. Don't judge, trust.
6. Discover the satisfaction factor
Make eating enjoyable and non-judgmental. When you slow down, eat pleasurable foods as well as dine in a non-stressful environment you will find a new sense of satisfaction.
7. Honor your feelings without using food
What's eating you? Lonely, angry, bored or anxious? What emotion am I trying to stuff by eating or (starve by not eating)? How can you comfort yourself without food? While food may be a quick fix it doesn't provide a lasting solution and usually makes you feel even worse.
8. Respect your body
We all have a unique "best weight" which is like our personal best that can't be measured on a chart or by a number you want to be. Just like you can't change your shoe size, you can't change your genetic set point to be a certain body size or shape. If you've been dieting a long time you likely won't like this but would you be willing to work towards accepting this?
9. Exercise – feel the difference
Stop extreme makeover workout attempts and move your body for health, energy and because it simply feels good to be active. Look at exercise as a way to elevate your strength and confidence, not as a form of punishment.
10. Honor your health – gentle nutrition
You don't need to be perfect – as I like to say "imperfect is actually perfect." Choose foods that both respect your health, energy and productivity at work but also be sure to consume soulful foods that are chosen for fun and taste. Make life delicious!
Need a supportive helping hand to help achieve this? Our compassionate team of intuitive eating dietitians can help, contact us here. 
Is intuitive eating a good option if I am recovering from an eating disorder?
If you are struggling with an eating disorder such as anorexia, bulimia or binge eating disorder often it is difficult to truly trust your hunger and fullness cues and be in a place of readiness to truly ditch food rules and restrictive eating behaviors. It can also take time to feel comfortable in your body and trust the concept of intuitive eating.
Working with a trusted Eating Disorder Dietitian is very helpful to help provide you with a strong foundation of what, when and how much to eat and then in time really move you to a more flexible relationship with food and the concepts of intuitive eating.
Where can I get more information on intuitive eating?
Purchase a copy of the well known book Intuitive Eating by Evelyn Tribole and Elyse Resch. It is a must read!
As Registered Dietitians that specialize in weight concerns, emotional eating and disordered eating we can see you in our local Calgary nutritionist office or as an Online Dietitian by phone or video conferencing for virtual nutrition counseling. Read more about our nutrition counseling programs and book an appointment by our experienced Registered Dietitian team here: INTUITIVE EATING DIETITIAN.
You might also enjoy these related posts:
Finding Food Freedom and Combating Unnecessary Diet Rules
Mindful Eating for Health and Meal Satisfaction
Looking for more information on intuitive eating or weight loss dietitian nutrition counseling?
Our dietitian Calgary and online nutritionist services can't guarantee weight loss (no one can!) but we can guarantee we will do everything we can to help you move towards your personal best weight and a sustainable lifestyle. You won't find any weird fad diets, unnecessary food restrictions and anyone trying to sell you shakes, supplements or so-called miracle cures here.
As university trained Registered Dietitians, you can count on us for credible advice and practical meal planning so you don't have to stress about food anymore. You can achieve a healthy and joyous relationship with food and your body. Let's talk about what this can look like for you. CONTACT US.
Read more about our nutrition counseling programs and book an appointment by our experienced Registered Dietitian team here: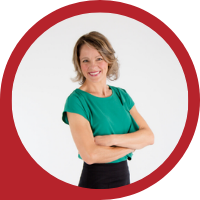 About Andrea Holwegner
CEO, Registered Dietitian, Counseling Practice Director & Professional Speaker
Andrea the «Chocolate Loving Nutritionist» is founder and CEO of Health Stand Nutrition Consulting Inc. since 2000. She is an online nutrition course creator, professional speaker and regular guest in the media. Andrea is the recipient of an award by the Dietitians of Canada: The Speaking of Food & Healthy Living Award for Excellence in Consumer Education....Read more