Roasted Kabocha Squash
Wondering how to cook kabocha squash? Try this!
This healthy simple recipe for roasted kabocha squash is an ideal way to enjoy seasonal fall vegetable. Kabocha squash (pronounce kah-bow-cha) is sometimes called a Japanese pumpkin. It has a deep green skin and orange flesh similar to pumpkin and like other winter squash like butternut squash has a bit of sweetness in flavor.
For more facts on winter squash and kabocha squash nutrition check out this helpful article: Winter Squash
Makes 4 servings
What you need:
1 Medium kabocha squash (about 3 pounds)
3 tbsp olive oil
3 tbsp maple syrup
1 tbsp fresh ginger, peeled and finely grated
6 thyme sprigs (and more thyme leaves for garnish)
Salt to taste
How to make
Peel, seed and cut kabocha squash 1-inch thick wedges and place in a bowl.
Stir the remaining ingredients in a small bowl and drizzle on top of the squash and stir.
Arrange squash on a greased rimmed baking sheet in a single layer. Roast at 450 F for 15 minutes. Flip the squash and then continue roasting for another 15 minutes until tender and golden.
Toss the thyme sprigs and garnish with a few thyme leaves.
Nutrients per serving
255 Calories
40 g Carbohyrate
3.1 g Protein
11.4 g Fat
9.7 g Fibre
We hope you have enjoyed this recipe for roasted kabocha squash! Do you have a favourite way to cook or serve this fall vegetable? Let us know in the comments!
Looking for more simple meal planning tips and healthy recipes for a healthier lifestyle? Sign up for our weekly newsletter for a healthy recipe of the week (and nutrition articles and videos with a balanced living philosophy to help encourage healthy habits but still save room for your favorites). Our nutrition newsletter is written by the Calgary Nutritionists on our team who each hold a professional Registered Dietitian license to ensure you are getting credible advice.
CLICK HERE TO SIGN UP FOR OUR WEEKLY NEWSLETTER: NUTRITION NEWSLETTER BY OUR CALGARY DIETITIAN TEAM.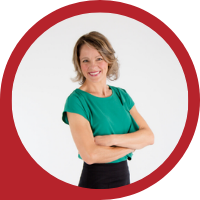 About Andrea Holwegner
CEO, Registered Dietitian, Counseling Practice Director & Professional Speaker
Andrea the «Chocoholic Nutritionist» is founder and CEO of Health Stand Nutrition Consulting Inc. since 2000. She is an online nutrition course creator, professional speaker and regular guest in the media. Andrea is the recipient of an award by the Dietitians of Canada: The Speaking of Food & Healthy Living Award for Excellence in Consumer Education....Read more