Keeping Fit Over the Holidays
By Lori-Jane Powell MSc
One of the major challenges for many people is to find time to exercise and to keep fit over the holidays. This season, plan to have it all; by incorporating daily fun activities that you can do with family and friends. Choose activities that can be done by young and old, with different fitness and skill levels.
One Activity a day
Is fun
Is a great way to spend quality time with family and friends
Helps you burn the extra holiday calories
Is a break from your normal day-to-day routine
Provides opportunities to learn new and different sports or exercises
Helps you stay in shape and feel good
Try these outdoor activities for some winter fun and exercise:
Tobogganing
Skating
Cross Country Skiing
Downhill Skiing
Swimming
Hiking/Long Walks
Snowshoeing
Indoor activities that could be considered:
Curling
Bowling
Squash
Tennis
Badminton
Racquetball
Swimming
Weight training / Gym activities
Check the website www.caloriesperhour.com to determine how many calories your favorite activities burn.
Healthy Fitness Gifts to Give at Christmas:
Personal Training Consultation/Package
Fitness Equipment eg. Exercise bands, exercise ball, heart rate monitor, hand weights for your house, pedometer etc.
Downhill ski pass
Yoga/pilates classes
Setting Realistic Goals for the New Year:
Set SMART Goals for the New Year!
S Specific
M Measureable
A Attainable
R Realistic
T Time Frame
Follow each of the letters in "SMART" and make sure that all goals you set meet those five criteria. If your fitness and exercise goals follow all of these steps you will have the best chance of success!
Think of your goals like steps in a staircase. Each step needs to have a specific plan to get you to where you want to be. By focusing on the small steps everyday, you will keep momentum and movement towards your goals!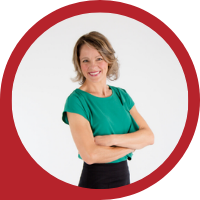 About Andrea Holwegner
CEO, Registered Dietitian, Counseling Practice Director & Professional Speaker
Andrea the «Chocolate Loving Nutritionist» is founder and CEO of Health Stand Nutrition Consulting Inc. since 2000. She is an online nutrition course creator, professional speaker and regular guest in the media. Andrea is the recipient of an award by the Dietitians of Canada: The Speaking of Food & Healthy Living Award for Excellence in Consumer Education....Read more