Kid Craze Gnocchi
Parents, caregivers and kids will enjoy making and eating these delicious Italian potato noodles! Cooking with kids is a great way to connect, have fun and teach them lifelong important skills.
Makes 4 Servings
What you need:
1 pound (450 grams) Russet potatoes Salt and pepper to taste
About 1 cup (130 grams) all-purpose flour, plus more as needed
How you prepare:
Peel potatoes and boil in a large pot with salted water until soft.
Mash potatoes with a fork or potato masher along with some salt and pepper. Add about 1/2 cup of flour and stir. Add more flour until the mixture forms a dough. *Add the least amount of flour and knead as little as possible for the best fluffiest gnocchi.
Roll a piece of the dough into a long snake about 1/2 an inch thick. Use flour as needed (but minimally) to prevent sticking.
Cut the dough into approximately 1-inch pieces and roll each piece off the back of a fork to give it a characteristic ridged pattern.
Place on a baking sheet lined with wax paper and a little flour (do not allow them to touch).
Work in batches to cook by adding a few gnocchi at a time to boiling water. One minute after gnocchi rises to the top remove from water with a slotted spoon. Place in a bowl and serve with tomato sauce and parmesan cheese.
Per serving:
Calories 212
Carbohydrates 47 g
Protein 5 g
Fat 0.4 g
Fiber 1.0 g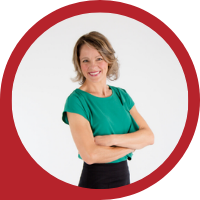 About Andrea Holwegner
CEO, Registered Dietitian, Counseling Practice Director & Professional Speaker
Andrea the «Chocolate Loving Nutritionist» is founder and CEO of Health Stand Nutrition Consulting Inc. since 2000. She is an online nutrition course creator, professional speaker and regular guest in the media. Andrea is the recipient of an award by the Dietitians of Canada: The Speaking of Food & Healthy Living Award for Excellence in Consumer Education....Read more