Kitchen Cleanse and Pantry Purge
The life changing magic of tidying up for your health
It is not enough to simply learn what to eat and why to eat in a certain way, the path to n
utrition success must also be examined from a how perspective. If you are trying to overcome a health challenge, lose weight or get a healthy meal on the table for your family, how you set up your kitchen is fundamental for success.
Marie Kondo's book The Life-changing Magic of Tidying Up: the Japanese Art of Decluttering and Organizing changed the way I think about all my possessions. Although the book doe
s not talk about your kitchen and food storage, the concepts in this book are highly valuable when applied to decluttering and organizing your kitchen and inspiring good health.
You only declutter once (if you do it right)
In order for this to be life-changing from a mindset perspective, declutter all at once. Block off an entire day (or more) to do this process. What is truly magical about this process is future clean ups become quick and easy since you will often buy less and keep your space free of clutter.
My husband and I have seen first-hand the impact of this process as we helped my mother-in-law downsize her home. Although she was overwhelmed when we brought all of her kitchen items into the living room, the intense freedom she felt when we were finished was life altering. She realized it was OK to wish an item well and send to donation when it had fulfilled its purpose or no longer sparked joy. I also know she has been forever changed in how she shops and stores food to minimize food waste (as previously it had been easy to lose track of items because things were stored in more than one place).
Work by kitchen category, not by room
Bring ALL items (including those in your basement or storage area) from a category to make sure they are in one central space. Visually seeing things altogether is important psychologically to make decluttering effective and impactful.
Consider decluttering and organizing by the following five categories:
Kitchen gadgets, small appliances, dishes, serving dishes, plastic containers and utensils
Pantry foods, dry goods, spices
Refrigerator items
Freezer items
Cookbooks and recipes
I recently spent some time with my sister and brother-in-law helping them with everyday meal planning as parents of two kids with busy hockey schedules. Together they took on the task of doing a pantry purge and freezer cleanout so they could take inventory on what they had and discard what they didn't need. This change provided them with a feeling of purpose and clarity and led them to create a weekly meal plan they now create in minutes, and a family recipe binder to make weekday meals less stressful.
Start with the end in mind
Imagine the end product of having an organized, decluttered kitchen that inspired you to cook nourishing foods for your family. Imagine having tasty, enjoyable foods that nudge nutritious living and fast meal prep in your pantry, fridge and freezer.
Select kitchen items and food based on Kondo's selection criterion: Does this spark joy?
As a foodie first and a dietitian second, I believe if there is no joy in what you are eating, you are following the wrong diet. Healthy eating should not taste bad or be something you can just tolerate. Choose foods that spark nutrition joy for your health and enough balance of soulful foods chosen exclusively for taste, enjoyment and socializing (such as chips and chocolate).
Cooking does not have to be a dreaded task. Select and maintain only a few good sharp knives that spark joy because they delicately cut through food with ease. Donate serving bowls you never use that take up valuable space.  Toss chipped dishes that take away from the beauty of a plated homemade meal. Your kitchen needs to be a place that inspires you to want to cook and eat well.
I think Marie Kondo said it best "The question of what you want to own is actually the question of how you want to live your life."
Originally published in the Calgary Herald Newspaper
If your family is struggling with meal plan organization, weekly supper meal prep and how to eat well with a busy schedule, we can help!  Co

ntact us

to book a time to speak with Registered Dietitian Andrea Holwegner to discuss our Calgary dietitian nutrition counselling programs (we can also help support you by phone or video conferencing if you live out of town or find this more convenient).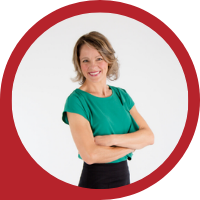 About Andrea Holwegner
CEO, Registered Dietitian, Counseling Practice Director & Professional Speaker
Andrea the «Chocolate Loving Nutritionist» is founder and CEO of Health Stand Nutrition Consulting Inc. since 2000. She is an online nutrition course creator, professional speaker and regular guest in the media. Andrea is the recipient of an award by the Dietitians of Canada: The Speaking of Food & Healthy Living Award for Excellence in Consumer Education....Read more