Layered Mexican Bean Dip
This is a fabulous party appetizer, fun weekend lunch or "finger food friday" vegetarian supper meal.  An even simpler version of this dip that is still delicious is done by layering refried beans, avocado mixed with lime juice, salsa and grated cheese.
Makes 6 servings
What you need:
1 can (16 oz) refried beans or refried black beans
1 tbsp chili powder
1/2 tsp cumin
2 avocados
1 fresh lime
1 cup light sour cream
1 cup grated cheddar cheese
2 tomatoes, diced
4 green onions, diced
Tortilla chips*
How You Prepare:
Mix the refried beans together with chill powder and cumin and spread over a 9-inch pie plate or platter.  Next mash the avocados with the juice of the lime and spread over the beans.  Layer the remaining ingredients one at a time and serve with tortilla chips. *Que Pasa brand tortilla chips are my favorite or make your own homemade baked tortilla chips or pita chips (cut flour tortillas or pitas into triangles, brush with oil, sprinkle with a pinch of salt and bake until crispy). Other great additions to your layered bean dip include: fresh jalepeno peppers, canned green chiles, canned chipotle peppers, corn, red/green peppers, shredded lettuce, olives, fresh diced tomatoes or cilantro.  You can also substitute the cheddar cheese with feta or queso fresco cheese.
Per Serving:
Calories 323
Carbohydrates  23.2g
Protein  12.1g
Fat  21.7g
Dietary Fiber  9.4g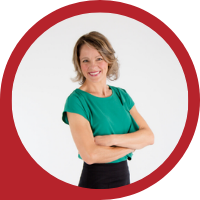 About Andrea Holwegner
CEO, Registered Dietitian, Counseling Practice Director & Professional Speaker
Andrea the «Chocolate Loving Nutritionist» is founder and CEO of Health Stand Nutrition Consulting Inc. since 2000. She is an online nutrition course creator, professional speaker and regular guest in the media. Andrea is the recipient of an award by the Dietitians of Canada: The Speaking of Food & Healthy Living Award for Excellence in Consumer Education....Read more