Lessons about keeping active from a dog and other buddies
Strategies for boosting physical activity
It is not always easy to get off the couch and get the physical activity your body needs. The Canadian Society of Exercise Physiology reports that 63% of Canadians are not getting enough physical activity to achieve good health. If you are struggling with motivation to keep active it might be good to take some advice from a dog.
When I grew up we had a dog we named "Lady" that was rescued from the pound on death row. I remember each day the dog was waiting by the door when any member of the family came home from school or work. Lady came to expect her daily walk at that time and even when you felt tired and didn't want to go out, her puppy dog eyes and sincere excitement would guilt you into heading outside for a walk. Ever noticed you can be in a terrible mood and want to plop yourself on the couch after a long day but often simply starting a walk is the hardest part? Have you ever started walking and then notice your mindset shifts and you walk farther than you intended? On the other hand, you may find you really don't feel better right away until you are finished. Personally as a runner I never really enjoy a run right away. In fact sometimes l may feel awful until I am finished. When I am finished a run I am reminded of how good the body feels to move and it keeps me motivated to go again. Physically moving your https://www.healthstandnutritionbody helps clear your mind and boost your energy. It is true that expending energy can give you energy. The healthiest and happiest humans (and dogs) are those that keep the body in motion.
I was recently walking my baby in a stroller on the Glenmore Reservoir pathway and noticed an interesting trend. The vast majority of folks that were getting physical activity were with a companion (dog, friend, significant other, baby, mug of coffee, ipod, or cell phone). If you are struggling with motivation to get outside for a walk or run, you might want to think about finding yourself a "buddy". If you don't have a dog, borrow your neighbors. Love a morning coffee? On the weekends try walking to a coffee shop in your area and make your warm cup of brew your buddy. Meet a friend for a walking date instead of a movie. Download some new tunes on your iPod if you are alone and need some company. Need to catch up with a friend on the phone? Call them on your cell phone during an evening walk.
Canada's guidelines for physical activity suggest that adults get 60 minutes per day of physical activity. The good news is that you don't have to get the 60 minutes all at once, you can add up your activities 10 minutes at a time. For more information visit: http://www.phac-aspc.gc.ca/hp-ps/hl-mvs/pag-gap/index-eng.php
Thanks for reading!
Andrea Holwegner
"The Chocoholic Dietitian"
Share your comments and similar experiences here on my blog: www.healthstandnutrition.com/blog/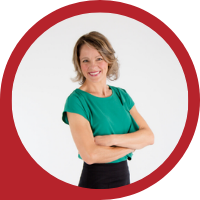 About Andrea Holwegner
CEO, Registered Dietitian, Counseling Practice Director & Professional Speaker
Andrea the «Chocoholic Nutritionist» is founder and CEO of Health Stand Nutrition Consulting Inc. since 2000. She is an online nutrition course creator, professional speaker and regular guest in the media. Andrea is the recipient of an award by the Dietitians of Canada: The Speaking of Food & Healthy Living Award for Excellence in Consumer Education....Read more