Live Fully (Healthfully AND Soulfully)
What if I told you that your favourites like beer and wings at the pub on Friday night or devouring a bowl of double chocolate chunk brownie explosion ice cream was just as important to your well being as eating enough fruits and veggies.
What I have learned over the past 10 years of counselling clients, is that when it comes to healthy eating imperfect is perfect. Dr. Brian Wansink, a leading food researcher suggests we make over 20,000 food related decisions each day. How could we expect them all to be perfect? Allowing yourself flexibility and the opportunity to enjoy your favourite treats is the only way I believe you can be successful and committed to achieving good health.
Over the years I have met 2 types of clients – the stuck strugglers and the shaker movers. The stuck strugglers never seem to be able to progress with the health changes they are looking for.
The shaker movers on the other hand have rock and rolled through change and have seen the results in health, energy and weight management they were looking for. These are some of the happiest, healthiest people I know. The shaker movers have figured out the concept of middle magic. Middle magic is about finding a balance between "all or none." There is a basic psychology principle that we all want what we can't have.Just like if you starve a child of affection they will seek it out; similarly if you starve the chocoholic dietitian of chocolate I will hunt it down, obsess about it more and eventually overeat. It is far better to have some of your favourite treats built into your plan than have all or none. Middle magic means finding a balance between healthful and soulful living. One without the other will always run you into trouble.
Enjoying a family vacation or indulging in holiday goodies are times to celebrate and take a vacation from your healthy eating efforts. What I would ask you to think about is how you can balance out these times of indulgence with enough healthy choices and active living.
Join me in the new year with a new mission to live fully…that is both healthfully and soulfully and with a mantra that bite-sized changes have supersized results.
Sincerely,
Andrea Holwegner
"The Chocoholic Dietitian"
Have a comment or question about this article? Post your thoughts and read more information on our new BLOG:www.healthstandnutrition.com/blog/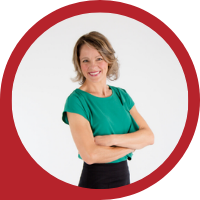 About Andrea Holwegner
CEO, Registered Dietitian, Counseling Practice Director & Professional Speaker
Andrea the «Chocoholic Nutritionist» is founder and CEO of Health Stand Nutrition Consulting Inc. since 2000. She is an online nutrition course creator, professional speaker and regular guest in the media. Andrea is the recipient of an award by the Dietitians of Canada: The Speaking of Food & Healthy Living Award for Excellence in Consumer Education....Read more