Should I go on a low-carb, wheat free, or gluten-free diet to lose weight?
Listen to my QR77 Radio Program below.
Every Monday at 4:15pm on QR77 Radio join me and Angela Kokott, host of Calgary Today, with our segment, "You are what you eat" to get the goods on healthy eating. If you missed my segments I will be archiving these audio discussions on my blog here.
Listen to Episode 41 here: Should I go on a low-carb, wheat free, or gluten-free diet to lose weight?
Sorting out confusion about the best way to lose weight 
If you have a New Year's resolution to lose weight and improve your health, you might be wondering about the best kind of diet for you.  Here are some things to consider: 
What is the best way to lose weight? 
First, remember there is no magic bullet when it comes to weight loss.
Healthy weight loss involves reducing calories consumed and/or increasing calories expended by physical activity not eliminating specific foods or entire food groups.
Rather than cutting out anything and doing an extreme make-over, keep a journal and work on shifting the portion sizes of higher calorie items in your diet to be just slightly less rather than eliminating something outright.
Slow and steady wins the race when it comes to weight loss.  While you may think 2-4 pounds per week is slow it is right on target and likely something you can sustain for the long term.
Also realize that genetics, family history, stress, sleep, hormones, body composition and more also play an important role in your weight.
Can going gluten-free or wheat-free help me lose weight? 
Gluten is a protein found in wheat, rye and barley.
New diet books claiming wheat is to blame for belly fat might sound convincing but are not endorsed by leading health authorities such as Health Canada.
Long-term research is clear that it is a deficit of calories that causes weight loss. What this means is that if you are overweight, reducing calories from foods containing carbohydrates, protein or fat will create the same level of weight loss over the long run.
Don't be fooled by the extra initial weight loss of a low-carbohydrate diet; this indicates you have essentially dehydrated yourself, since carbohydrates store fluid on the body.
Also keep in mind that carbohydrates store water on your body. It is not uncommon for low-carb dieters to lose five to 15 pounds of water weight when restricting carbohydrates.
Can eating grains HELP me with my weight loss efforts and health?
Removing wheat and other gluten-containing foods from your diet unnecessarily could do more harm than good. Wheat, rye, barley and oats supply key nutrients such as fibre and B-vitamins that are good for your health.  Unless you have celiac disease (which the Canadian Celiac Association estimates affects approximately 1 in 133 Canadians) or if you have a non-celiac gluten sensitivity which affect an estimated 2-6% of us, there is no reason to give up gluten and wheat.
Research shows consuming whole grains improves satiety and overall satiety in meals.
As an advocate for finding pleasure and joy in eating, I would also argue that removing foods you love, such as bread, for no clear medical reason just adds hardship to the already big challenge of healthy eating.  Have you ever noticed that if you tell yourself you can't eat something, you crave it even more?
Can I just get my carbs from veggies and fruits instead of grains?
Carbohydrates are found in fruits, vegetables, grains, legumes, some dairy foods and sweets.
Do not be fooled by popular claims that you can skip grains and just eat vegetables and fruit. Grains provide different types of fibre, B-vitamins and other nutrients that are not found in fruits and vegetables. For optimal health, choose a wide variety of foods. 
How much carbohydrate do I need?
Your brain runs exclusively on carbs (you can think of all carbs as single, double and longer chains of sugar). The Institute of Medicine of the National Academies in partnership with Health Canada suggests the brains of children and adults need an average minimum amount of carbohydrates of 130 grams per day. This is the equivalent of eating two slices of bread, one cup of rice and several pieces of fruit.
In addition, you need carbs to fuel your muscles for physical activity. Therefore, total daily carbs required for the brain and muscles of adult women and adult men are approximately 180 to 230 grams and 220 to 330 grams of carbohydrate or more respectively.
When carbohydrates are not consumed in sufficient amounts, you may feel tired, anxious or depressed, have difficulty concentrating, or experience muscle fatigue when exercising. If you eat more carbohydrates than your body needs (just as if you eat too much protein or fat), extra calories are stored as body fat. 
Sustainability is key
Anyone can lose weight, but can you sustain the loss?
If your nutrition regime makes going on vacation or attending a dinner party impossible, chances are you won't stick to it.
Refuse to buy into a plan that provides you with a long list of foods that you can't eat.
What I have learned from working with many yo-yo dieters and individuals struggling with their weight is that there is a basic principle that says "we all want what we can't have."  If you starve yourself of enjoyable foods you will inevitably end up overeating them.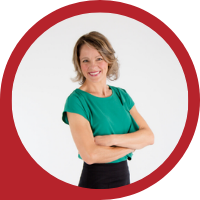 About Andrea Holwegner
CEO, Registered Dietitian, Counseling Practice Director & Professional Speaker
Andrea the «Chocolate Loving Nutritionist» is founder and CEO of Health Stand Nutrition Consulting Inc. since 2000. She is an online nutrition course creator, professional speaker and regular guest in the media. Andrea is the recipient of an award by the Dietitians of Canada: The Speaking of Food & Healthy Living Award for Excellence in Consumer Education....Read more