Make a Successful New Year's Resolution
The New Year is here! This year try making a resolution that sets you up for success over the long term. Read on for tips to make sure your resolution sticks!
Evaluate "why" you want to change
You need to truly want to change in order for the change to be lasting. Many times people set resolutions because they think they should or to please others. Take some time to think about what it is you truly want and why.
Slow It Down
Don't go too fast too soon! Change is a process not an event. Set goals that require you some work, but are not too much that you know it is going to be impossible to follow. For example if you skip breakfast daily, set yourself a goal to eat breakfast 3 times next week.
Use Your Own Creativity
There are many ways to eat healthy and live a balanced lifestyle. You don't have to eat tofu and be destined to live in a gym. Be creative and think about what small changes you can make that can make a difference. For example you may decide to ensure you eat fruit every day as part of your breakfast since we know that choosing enough vegetables and fruit substantially lowers you risk of heart disease and cancer.
Set SMART goals
If your resolution is "to eat healthier" the goal is so general that it is meaningless. Think about how you are going to eat healthier. Set SMART goals (Specific, Measurable, Action, Realistic, Time). For example: "I will pack at least ½ cup of vegetables (such as carrots, grape tomatoes, broccoli, sugar snap peas, vegetable soup, or tomato juice) in my lunch 3 times a week in the month of January and 5 times a week in the month of February."
Add Commitment
If you write down your resolution and tell someone about it, you are more likely to succeed in keeping your resolution.
Build in a Reward System
Make sure that you reward yourself in some way when you have achieved your goal. If you succeed in achieving your goal of walking 30 minutes 4 times a week for the last month, then make sure you have a reward for your hard work. You may buy a new CD, go for a massage, buy a new pair of pants for walking etc.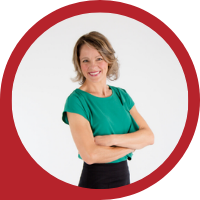 About Andrea Holwegner
CEO, Registered Dietitian, Counseling Practice Director & Professional Speaker
Andrea the «Chocoholic Nutritionist» is founder and CEO of Health Stand Nutrition Consulting Inc. since 2000. She is an online nutrition course creator, professional speaker and regular guest in the media. Andrea is the recipient of an award by the Dietitians of Canada: The Speaking of Food & Healthy Living Award for Excellence in Consumer Education....Read more