Simple Mango Shrimp Skewers Recipe
Dietitian Recommended!
This simple mango shrimp skewers recipe by my friend Colleen Cannon can be made ANY time of the year since you can take advantage of frozen mango and shrimp.  Serve this as an appetizer or alternatively for supper with a tossed salad and whole grain garlic toast (or grilled veggies and rice).
Makes 6 servings
What You Need:
About 1 pound shrimp, deveined and peeled
About 3 cups of frozen mango cubes, slightly thawed
Marinade:
6 tbsp lime juice
1 tsp lime zest
4 cloves crushed garlic
4 tsp minced fresh ginger
4 tbsp olive oil
1 tsp red pepper flakes
2 tbsp honey
How You Prepare:
Combine the marinade ingredients with the shrimp and marinade for 45 minutes. Skewer shrimp on soaked wooden skewers or metal skewers interspaced with mango chunks and grill until done.  Serve immediately.
Per serving:
Calories 216
Carbohydrates 23 g
Protein 11 g
Fat 10 g
Dietary Fiber 2 g
Looking for more healthy eating recipes? Sign up for our weekly newsletter for a healthy recipe of the week (and nutrition articles and videos with a balanced living philosophy to help encourage healthy habits but still save room for your favorites). Our nutrition newsletter is written by the Calgary nutritionists on our team who each hold a professional Registered Dietitian license to ensure you are getting credible advice.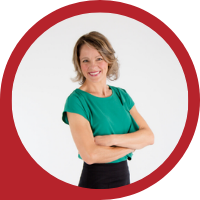 About Andrea Holwegner
CEO, Registered Dietitian, Counseling Practice Director & Professional Speaker
Andrea the «Chocolate Loving Nutritionist» is founder and CEO of Health Stand Nutrition Consulting Inc. since 2000. She is an online nutrition course creator, professional speaker and regular guest in the media. Andrea is the recipient of an award by the Dietitians of Canada: The Speaking of Food & Healthy Living Award for Excellence in Consumer Education....Read more