Neurobehavioral Processes
Neurobehavioral Processes (aka how your brain controls eating behavior in response to cues in the environment)
Listen to my QR77 Radio Program here:
Every Monday at 4:15pm on QR77 Radio join me and Angela Kokott host of Calgary Today with our segment "You are what you eat" to get the goods on healthy eating. If you missed my segments I will be archiving these audio discussions on my blog here.
Episode 24 – Neurobehavioral Processes
The radio station was not able to retrieve an audio copy of this segment due to technical difficulties but here is an overview of the content that was covered:
According to a new study published in the August 2011 edition of the American Dietetic Association Journal by behavioural and preventative medicine experts at Rush University Medical Center you should focus on brain power instead of willpower.  Examining the way the brain controls eating behaviour in response to cues in the environment, known as neurobehavioral processes can help with weight loss.
There are three neurobehavioral processes tied to weight loss and how much we eat: 
Food Reward
Your brain naturally has a strong motivational drive to find and eat tasty food.  It also intuitively seeks the experience of pleasure that comes about after eating enjoyable food.  If you experience higher food cravings especially for sweets and high-fat foods you may have a stronger biological preference to seek reward. 
Inhibitory Control
Your brain also has a varied response to suppressing the urge to eat high calorie foods.  If you have found it hard to say no to tasty treats and high fat foods it may be because your natural biology has more powerful urges to eat rather than abstain. 
Time Discounting
Research shows humans have a tendency for immediate gratification rather than delayed positive results.  This means that when it comes to decision making about food you will quite often prefer the immediate pleasure of eating than the delayed health benefits of weight loss. 
If you need to lose weight to improve your health, keep in mind the old rules that rely on will power to eat less and say no to food cravings likely won't work.  Here are some strategies that specifically tackle your brains genetic susceptibilities and the challenging environment we live in:
Out of sight, out of mind
Keep your favourite foods such as potato chips and pop out of your house, car and work.  Choosing to do this helps prevent the mesolimbic dopamine system in the brain from getting sensitized to seek reward.  If you are someone that loves vending machine junk food or baked goods at the coffee shop, try leaving your cash at home.  Several of my clients have found only bringing a credit card to work has decreased their junk food consumption.
Make a list
Another strategy to help minimize sensitizing the brains reward system is to make a list before going to the grocery store and follow this strictly. Alternatively shop online or go with a buddy that can help you stick to your plan. 
Minimize eating out
For most people it is hard to leave extra food on a plate or dish up appropriate servings at an all-you-can-eat buffet.  These environments challenge the prefrontal cortex of the brain responsible for inhibitory control.  I travel regularly with my job as a nutrition educator and have learned that I always overeat at a hotel breakfast buffet and do better when served a single plate of food.  If you are at a restaurant you know serves big portions, ask for half your meal to be served and the other half to be boxed for lunch the next day.   The trick here is to be sure you do this when you order rather than hope to leave half to take home.
Go near versus far
A nearsighted focus on your nutrition goals will serve you better than focusing on long term goals to help you manage the challenge of time discounting.  Focus on how many servings of veggies you ate today, rather than your long term goal to lose thirty pounds.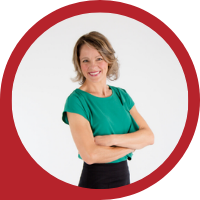 About Andrea Holwegner
CEO, Registered Dietitian, Counseling Practice Director & Professional Speaker
Andrea the «Chocoholic Nutritionist» is founder and CEO of Health Stand Nutrition Consulting Inc. since 2000. She is an online nutrition course creator, professional speaker and regular guest in the media. Andrea is the recipient of an award by the Dietitians of Canada: The Speaking of Food & Healthy Living Award for Excellence in Consumer Education....Read more