Nut Free Energy Balls Recipe for Kids
School Friendly Recipe! Nut-Free Protein Balls
This recipe for nut free energy balls is found in the School Year Survival Cookbook by Laura Keogh, and Ceri Marsh, and adapted by Andrea Holwegner. A great take-along, or add to lunches as a dessert or snack idea. You can even get the little chef in your home to help make these.
Makes about 22 balls.
*Note: f you are serving this for someone with a severe nut allergy please be sure to read the product labels of every ingredient and make sure the ingredients were processed in a facility that does not contain nuts.
What you need:
1 cup oats
2/3 cup unsweetened shredded coconut
1 Tbsp chia seeds
1/2 cup ground flax
1/2 cup chocolate chips
1/2 cup sunflower butter (OR: 1/2 cup WOW butter, plus 1/4 cup vegetable oil)
1/3 cup maple syrup
1 tsp vanilla extract
How to make:
In bowl, mix all ingredients. Cover and refrigerate for at least half an hour.
Once everthing is chilled, roll into 1-inch balls, and store in fridge, in sealed container.
Nutrients Per Nut Free Energy Ball:
Calories – 118
Fat – 6.5 g
Carbohydrates – 13 g
Fibre -2 g
Protein – 3.2 g
We hope you have enjoyed this healthy school-friendly recipe for kids for nut-free energy balls!
Looking for more simple meal planning tips and healthy recipes for a healthier lifestyle?  Sign up for our weekly newsletter for a healthy recipe of the week (and nutrition articles and videos with a balanced living philosophy to help encourage healthy habits but still save room for your favorites). Our nutrition newsletter is written by the Calgary Nutritionists on our team who each hold a professional Registered Dietitian license to ensure you are getting credible advice.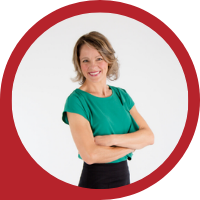 About Andrea Holwegner
CEO, Registered Dietitian, Counseling Practice Director & Professional Speaker
Andrea the «Chocolate Loving Nutritionist» is founder and CEO of Health Stand Nutrition Consulting Inc. since 2000. She is an online nutrition course creator, professional speaker and regular guest in the media. Andrea is the recipient of an award by the Dietitians of Canada: The Speaking of Food & Healthy Living Award for Excellence in Consumer Education....Read more